We all have our dream living room design. From fancy walls to grand couches, you name it! What stops us from achieving this interior design goal is the limited space. Living room design is all about smart styling. You have to find alternatives in terms of fixtures, furniture, materials, and lighting.
It's no secret that small living room spaces are quite difficult to design. You have to be creative and think of long-term utilization at the same time. Allow these four tips to give you inspiration in designing small living room spaces. It's time to step out of your comfort zone and quit being frustrated with your dream living room design!
Recommended: How to Safeguard your Home?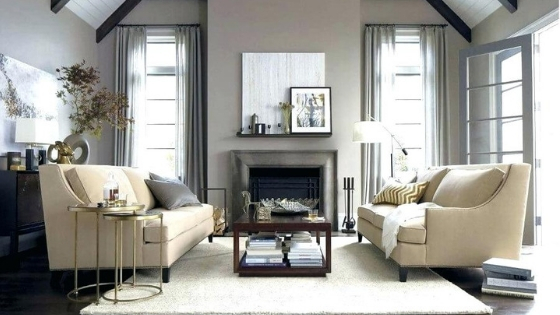 Play with Different Wall Design
When it comes to living room designs, walls attract the eyes at first look. For small living rooms, it would be best to choose an effective color and material that will create a spacious illusion. Just because the space provided is small doesn't mean you have to stick to boring-colored walls. Among the four or five walls of your living room, which one deserves the spotlight? Accent walls are usually used for large spaces but it works well with small spaces too.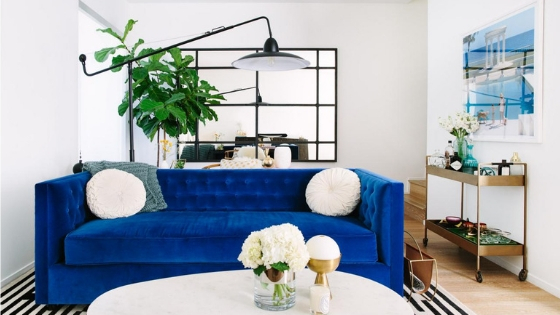 The image above is a creative way to style your walls. It is the best example of accent mirror wall design as it creates an illusion that elongates the space. It's a simple yet stylish solution for small spaces. It's up to you if you want to use different mirrors or one large mirror. The design is how it complements one another.
There are a variety of materials that you can use for your accent wall to add texture and details to your design. Use the material that will boost its aesthetics and most importantly, its functionality. Imagine what a stylish accent wall can do. You have the power over vertical spaces. Hang paintings, install high-leveled shelves, or even just a brick wall will do. Allow your walls to define the character of the living room you want to achieve.
Effective Lighting Design
One of the most important elements of design is effective lighting design. What's the whole point of having fixtures and furniture if the details aren't emphasized? The significance of lighting in living rooms is the build of a comfy ambiance even in a small space. It has the ability to conceal the cramped look and will give you a cozy atmosphere.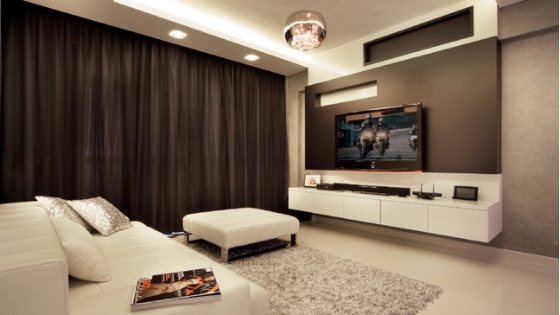 The image above is the best example of an effective way of lighting your small living room space. Home LED strips illuminate the cove ceiling design providing light and increasing its aesthetic value. You can notice how the ceiling design extended to the walls. It is very minimalist yet it gave emphasis to the details and layers of the accent wall. To add an icon to the living room, they added a globe medium-sized pendant light.
Cove ceiling design is an effective and stylish trick in maximizing small spaces. It doesn't consume much vertical space since it's installed straight to the ceiling. The look is very light yet elegant. Most guests would expect chandeliers and wall sconces. Little did they know there are other ways on how to make your cove lighting design fancier. You can choose from a variety of colors for the light and different shapes for the cove ceiling. Isn't it amazing?
Recommended: 5 Cool Fiberglass Pool Technology and Facts for Homes
Space-saving Furniture
Small living room spaces are considered tricky but exciting to design. Space-saving furniture is highly recommended without having the design compromised. There is a lot of furniture in the market which is space-saving and multi-purpose. It can be a coffee table, couch or even your shelves. It's all about how your chosen furniture will make your living space look spacious and not compressed.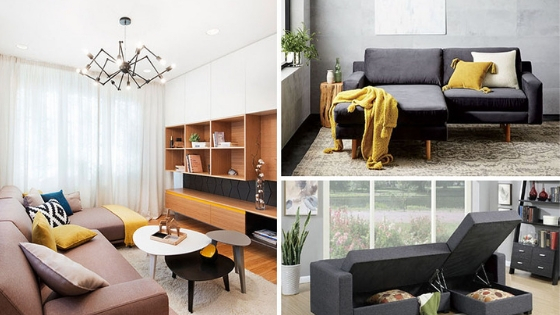 On the image above, who knew the couch also serves as a storage for the pillows? It's not limited to pillows. You can store old issues of magazines, books, and DVDs. It is smart styling. Instead of displaying everything, you have the option to store what you don't need. This will not just conserve space but it will help you with proper storage.
Utilize Vertical Patterns
Why are vertical patterns effective in making your small living room look spacious? Vertical patterns put emphasis on the height rather than the width. It has the ability to elongate the living room space. It doesn't necessarily need to be the stripes pattern. You can play with different vertical patterns defining the floor up to the ceiling.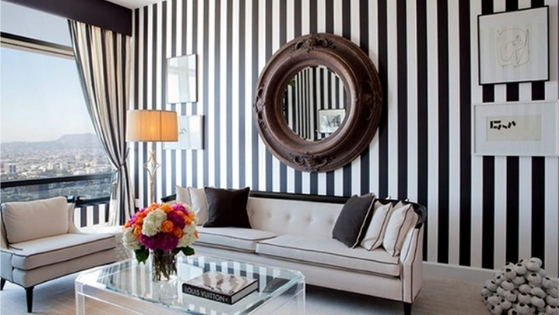 As you can see on the image above, they used the striped pattern to highlight the plain colored furniture. The placement and design of the wall and furniture don't compete with one another. A tip in choosing vertical patterns, pair it with a plain-colored accessory. They used a mahogany-framed mirror and simple frames to add a stylish look to your accent wall. A fancy way to spice up the look of your small living room space!
Conclusion
The perspective of people when it comes to designing small living room spaces is to stick to the basic design. Yes, it's easy but will you just forget your dream of lounging on your cozy living room space? You don't have to settle for less when there are ways on how to achieve your dream living room design. Unleash your inner creative self and increase the aesthetic value of your small space.