SuperSu APK is a best rooting app, and its latest version is recently released which can be downloaded and can flash easily. This new update has fixed some if bugs. Along with that, they have done many changes in it.
Are you using a rooted Android device and looking for a way to accomplish root permissions on your device using another tool? If yes, then you are at a correct place because this article gives you all the answer.
In the previous versions, people facing issues like play store not working and Root failure. All these problems resolve with this new update.
There are two files available for the download SuperSu APK, one is APK, and another is superuser Zip, which you can flash on your device if it is not rooted with the help of recoveries like TWRP or CWM.
The APK file works on the only rooted device. But note that SuperSu APK and Zip works on almost all Android devices, and you can easily manage root permission using this app.
The SuperSu file contains binary files which are helpful to gain achieve root access on your Android smartphone.
When you install SuperSu app on your Android device, you will get the app. The key role of this app is to manage the access of all apps installed and working on your Android device. Using this administration tool, you can either permit or reject root access to the Android apps installed on your smartphone.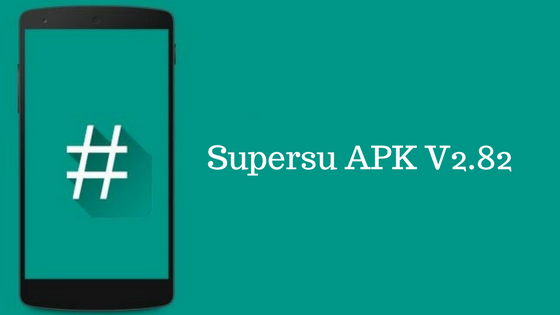 Along with that, you can easily unroot your Android smartphone on a temporary or permanent basis. So running this feature, you can get all the advantage of the uprooted device, and this can flash on any rooted Android smartphone or tablet irrespective of its brand or Android OS. That's why SuperSu is reflected as the best Android rooting application.
Related Post: Freedom APK Download
Here, in this article, we have provided the latest SuperSu V 2.28 versions of Android app (APK & Zip) with its features and SuperSu download link. To know more about it keep continue reading.
About SuperSU APK and zip
| | |
| --- | --- |
| Latest App Version | 2.82 |
| File Size | 5.93 MB |
| Status | Working |
| Android Version: 2.3 or later | 2.3 or up |
| Package | eu.chainfire.supersu |
| Release Date | May 29, 2017 |
| Supported DPIs | nodpi |
| md5 | 52738867e8a784bcc07be12150690886 |
SuperSU Latest Version 2.82 Changelog
CCMT: Remove Feedback screen and associated permissions
su: Fix su.d scripts running in the wrong mount context (introduced by ODP sdcardfs fix)
SuperSu Root APK Features
Keeps track of all the apps that need root access
Ensures the proper and safe functioning of a rooted app
Makes a list of all other the apps that have been approved root permission
Automatically grants the permits, when rerun the SuperSu app
Check how frequently the apps are using the given permissions
Let you unroot your devices temporarily
Solve the issues if the user's phone stuck in boot loops
Works in recovery mode
Color-coded command content logging along with different colors for input, output, and error
Per-app logging configuration
Per-app user override
Per-app notification configuration
Detects deep process
If the user's Android device is not correctly booted then also app works correctly
Work in ghost mode without any trouble
Converts to system app
Completes unroot process
Personalized options like change icon and change theme
Supers Root APK Download
SuperSu, latest version has two type of file first is APK and second are Zip.
SuperSu APK Download
You can download SuperSu APK from the official site. Below are some more Supersu APK version.
SuperSU_2.82.apk – Latest Version
SuperSu Zip Download
To download SuperSu flashable zip, go to the link given below.
SuperSU_2.82_Recovery_Flashable.zip – Latest Version
SuperSU_2.79_Recovery_Flashable.zip
SuperSU_2.78_Recovery_Flashable.zip
SuperSU_2.76_Recovery_Flashable.zip
Last words:
SuperSu app is the best app for root your device. It gives you total control of device, and if you consider my opinion, then it is the best rooting app for android. Even it has two type of file for rooted and non-rooted device, and for downloading it, we provide you direct link for that.
We hope, after reading this article all your doubts gets clear. Even you have any doubt, you can contact us freely. We try our best for that. Your comments, problems, suggestions, and consideration are always welcomed. Thank you for reading.
Related Post: