If you are looking for one or more affordable laptops with longest battery life for yourself or for your business, there are many reasons for considering refurbished laptops. There is a huge market for such equipment for so many reasons. Explore the key benefits whether you are going to invest in a single or multiple laptops.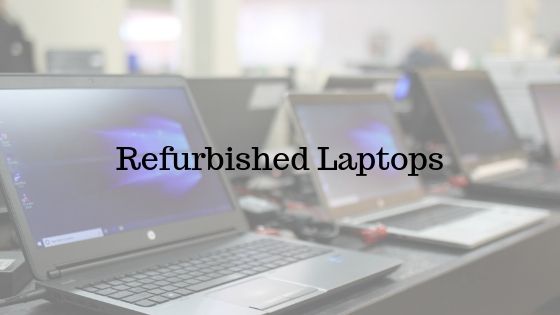 Types of Refurbished Laptops
Refurbished laptops are available in 2 different types.
Nearly-New/New: These refurbished laptops can be built to a specific order that was canceled or the order was returned.
Leased Units: These systems were leased by a business and returned after the lease period ended.
Both types of refurbished systems can address your small or large-scale requirements at affordable prices when compared to purchasing brand new units off the shelf. And both types of machines are available with reputed platforms like Recompute.
Advantages of Refurbished Laptops
The key advantages of choosing refurbished laptops are as follows:
1. Save More
Refurbished computers are systems that were returned to manufacturers because the consumers weren't satisfied with something. The systems are diagnosed for any issues and restored to their factory condition. They are then marketed as 'refurbished' and not 'new', with some big discounts.
Thus, you are able to get an almost brand new system without having to pay the full price. And the amount saved can be used to upgrade the laptop with the latest applications and accessories.
2. Warranties
Refurbished laptops are not to be compared with used systems. Used laptops don't come with any warranties, but refurbished systems do. Many sellers offer anything from 90 days to a year of warranty on the product. You are almost getting a brand new computer with limited period warranty.
In fact, warranty is also an excellent mark that the laptop is refurbished. Anyone selling a refurbished computer without warranty is most likely selling a used system.
3. Tested & Diagnosed
Refurbished system, whether it is a new one or an off-lease unit, it has to go through testing and diagnosing. All you have to ensure is that you are buying from a reputed retailer. They will test the laptop and re-install the OS and various applications to ensure that it is in its original condition and configuration. If it is an off-lease system, it has been used by someone. It can mean that any earlier issues were identified and fixed.
4. Environment-Friendly
Another advantage of investing in refurbished laptops is that it is an environment-friendly decision. It is an effort towards reducing the amount of electronic waste that ends up in landfills. Manufacturers are making millions of new laptops while consumers are getting rid of their used equipment.
Buying refurbished equipment helps in reducing the impact of this cycle. It means giving a new lease of life to equipment and keeping more stuff out of the landfill.
Thus, there are many benefits of investing in refurbished laptops. It means more savings and yet being able to use a laptop that is almost new or actually new. Such machines are tested and diagnosed for any errors. You can also upgrade it with enhanced hardware and software to get even better performance out of it and use it for specialized purposes.