It is interesting that memory form was first invented by NASA for the purposes of making space travel more comfortable and relaxing for humans. So if you are looking to create the perfect environment for sleeping, you should choose memory foam mattresses. It is like relying on 'space technology' to sleep better and improve the quality of your life.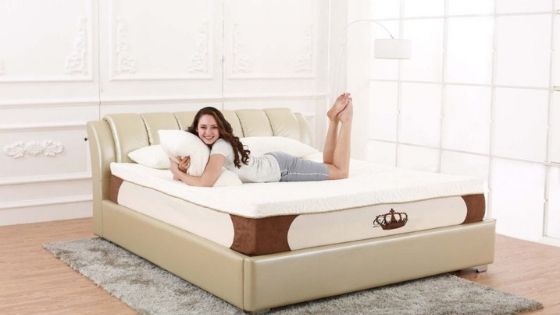 Benefits of Memory Foam
Memory foam mattresses provide many benefits that contribute to the quality of sleep you and your family enjoy. Some of the key contributing benefits include the following:
Relief from pain and pressure
Low motion transfer
Natural spinal alignment
Hypo-allergenic
There are many more benefits that contributing to a great sleep.
Adjusts to Your Body Weight & Heat
Memory foam mattresses are made of a material that is temperature resistant. When you sleep your body temperature rises. This mattress will sense this change in temperature and becomes softer. Thus, it adapts to your body's temperature and gives you more rest. Every time you sleep, you will feel more restful and wake up rejuvenated after a good night's sleep.
The mattress can also mold to your body's shape and causes even distribution of body weight. It will return to its original shape once the body weight is removed. This is in fact where memory foam gets its name from. It conforms to your body shape and weight and then return to its original shape. You will feel like melting into the mattress every time you go to sleep.
Helps with Perfect Sleeping Posture
Another sleep benefit of having memory foam mattresses is that they help you achieve the perfect sleeping posture. It is also considered the best mattress for side sleepers. It works by aligning the spine properly when you lie down. When you sleep in it for a long time, it can help in giving relief from a wide range of spinal issues. It can not only prevent spinal problems from developing, it can also reduce the pain and discomfort associated with existing issues.
Sleep Undisturbed
If you have family, it is a common thing that your partner or kids may jump into the bed or leave at any time when you are asleep. Any such movement can move the entire bed and can wake you up. But a memory foam mattress can provide unperturbed sleep without you ever knowing that your kids, partner or pet are moving on and off your bed.
This is made possible due to the unique motion transfer resistance technology integrated into this mattress that was designed for astronauts in the first place. The mattress absorbs any surface movement and reduces disturbances. This is also beneficial for you if you have a partner or kid who tosses and turns.
Get Relief from Pain, Aches & Soreness
When you sleep regularly in this type of mattress, it helps in giving you relief from a wide range of pains, aches, and soreness. Memory foam displaces the pressure points on the body. For example, it displaces pressures on the shoulders and hips. This is responsible for the relief in pain and aches. The result is that you feel more rested after a sleep. This also results in improved blood circulation. Thus, you will wake up more refreshed. You will also benefit from the prevention of back soreness.
Memory foam mattresses are considered to be so effective for improving sleep quality and body rest that they the material is also extensively used for making pillows. When memory foam mattresses and pillows are used, your head will receive healthy elevation and your neck will be properly relaxed. It is also considered to help improve the condition of patients suffering from sleep apnea.
Almost 1 in 3 adults are unable to get enough sleep. The causes may be related to a hectic lifestyle or sleeping disorders. But a significant percentage of people don't get enough sleep because of poor quality mattresses. When you invest in memory foam mattresses you are investing in quality sleep for your entire family. Even when you don't have all the time to get enough sleep, the few number of hours you spend on the mattress is going to help you get all the rest you deserve.
Related Post: