As the logistics industry continues to grow, package delivery companies are continually looking for logistics technologies that will help them move shipments quicker and more efficiently.
The logistics industry is growing so rapidly that US ton-miles are expected to reach 8.28 trillions of ton-miles by 2045.
Due to the fact that the logistics industry is a highly integrated supply chain network, linking both consumers and producers, it's important to remain transparent at every mile mark.
Technology and logistics are also highly integrated. With advances in technology, logistics technology is changing. To help you stay ahead of the competition, here are the top 5 technology trends in the logistics industry.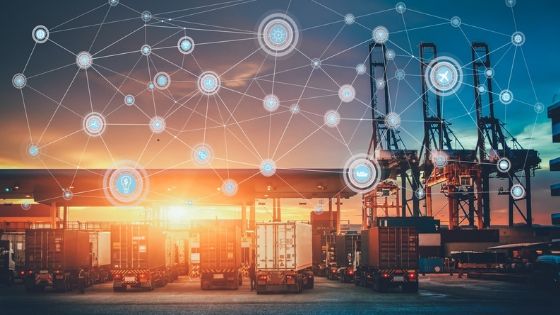 Logistics Technology Trends
In addition to the advances in technology, the growth of e-commerce as well as the rising digital literacy among consumers, the global logistics industry is changing. Parcel delivery services are looking for more efficient ways to serve their customers.
Blockchain Technology
The creation of blockchain technology has changed the landscape of the logistics industry. In simplest terms, blockchain technology is a time-stamped series of fixed data that is not owned by a single company but managed by a group of computers.
It has allowed logistics companies to create digital contracts that are failsafe. Since the data is not owned by a single entity, this allows for partners in the logistics industry to communicate transparently.
This means that auditors, customers, suppliers, manufacturers, and warehouse managers alike have access to a system that is tracking assets, recording transactions, and managing documents.
The introduction of the blockchain technology to the logistics industry has allowed for logistics to operate at a higher level of efficiency and transparency. The positive impact has caused this technology to become essential.
So essential that the blockchain technology market in logistics and transportation is expected to rise above $661 million by the year 2022.
Integration of Smart Glasses, Drones, and Self-driving Vehicles
The logistics industry has begun to integrate the use of smart glasses, drones, and self-driving vehicles into their daily operation. This allows logistics companies to operate with improved flexibility and speed.
Logistic companies are able to maintain same day delivery and high reliability with the use of autonomous vehicles and trucks, as well as self-driving vehicles. They are able to do this in both rural and urban areas.
The use of smart glasses in the logistics and transportation industry allows for hands-free route searches. This will allow for more safety for delivery drivers. Smart glasses allow for the use of face recognition, which in turn allows for personalized and error-free deliveries.
Smart glasses integrated with AI technology will help logistics companies increase their overall operational efficiency as well as speed and flexibility. It will also allow for more efficiency in last mile deliveries.
Last Mile Deliveries
The focus of last mile deliveries is to get packages to the end user as quickly as possible.
With the rapid increase in the number of e-commerce companies available to consumers, logistic and transportation companies are looking for more efficient last mile delivery services.
Last mile delivery services have quickly become one of the most important ways of differentiating your business apart from your competitors. As you have already observed, there has been a rapid growth in same-day delivery options for consumers.
In addition to same-day delivery, consumers are wanting a higher level of service. This has encouraged many retailers to seek in-house delivery options in addition to outsourcing.
The Rise of Third Party Logistics
The increase in the use of third-party logistics (3PL) and fifth-party logistics (5PL) is expected to continue to increase. As much as 91% of companies working with a 3PL report that their relationship has been successful.
3PL and 5PL encompass a large range of logistics and end-to-end transportation needs. Should you decide to work with third-party logistics, you can count on them to do the following:
Maintain inventory logs
Maintain travel insurance
Offer protection against property loss
Third-party logistics offer a way for companies to decrease procurement expenses, all while continuing to reduce delivery times for consumers.
The rising complexities of global markets due to e-commerce are further encouraging the use of 3PL as well as 5PL. Not sure which company to work with? Freight brokers help you choose the best freight carrier quickly.
Chatbots and Collaborative Robots to the Rescue
The transportation and logistics industry is finally integrating the use of chatbots and collaborative robots. Chatbots have been able to deliver better customer service to consumers and to help employees put their time where it's needed.
Integrating chatbots into your day to day options will allow you to offer superior customer service at multiple points in the supply chain. The bots can perform specific actions such as ordering, shopping, and selecting.
In addition to chatbots, robotics technology is expected to help revolutionize the transportation and logistics industry. With large e-commerce companies, like Amazon, integrating robotics into several areas of their warehouses, companies are running more efficiently.
Robots are able to tackled tasks such as storing, picking the product off shelves, and packaging. With this effective technology, order fulfillment is becoming faster and more efficient.
Faster order fulfillment means fast delivery times for your customers.
Integrate Logistics Technology Into Your Business
Integrating logistics technology into your business will help you to stay ahead of your competition. As you work faster and more efficiently, your logistics company will find saved financial resources.
The technology trends listed above are gaining popularity for a reason. Don't be left behind! Invest in the right logistics technology today!
Don't forget to bookmark our site to never miss the latest posts!