Technology has completely revolutionised most aspects of our lives. It's now even helping us manage with one of the most tedious parts of human existence: cleaning. No one likes to clean yet we all have to do it to some extent. In the past, if you wanted to avoid having to clean around the house, you'd have to hire someone else to do it. But this can be an expensive solution and a lot of people aren't that comfortable letting strangers into their homes.
Nowadays, you have a new solution available: robots. Technology has made it possible to skip the human cleaners and have robots do all the dirty work for you. Here's how you can keep your house clean with the help of robots.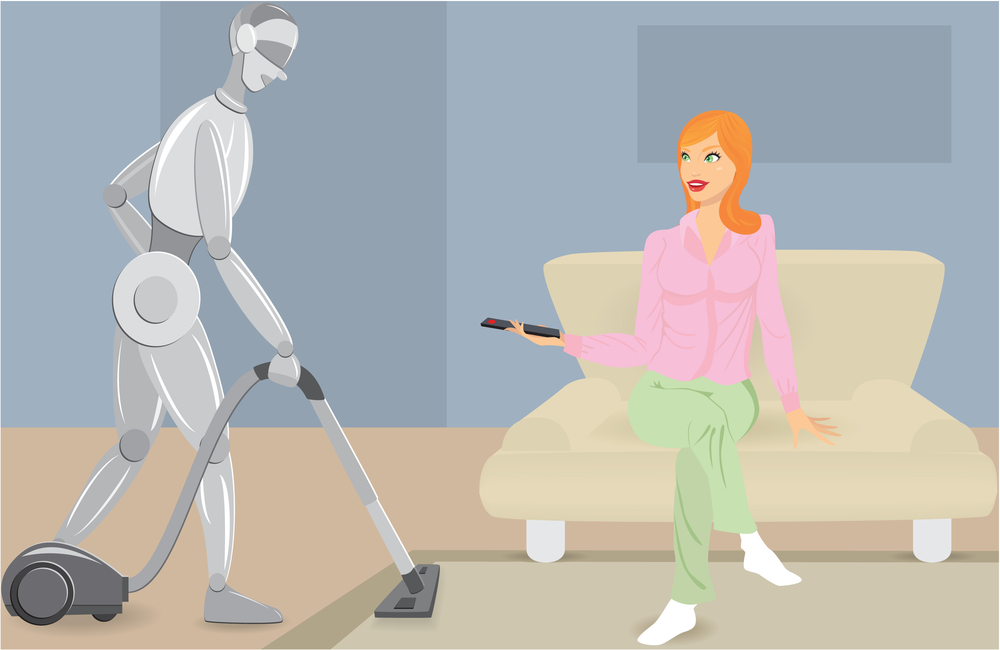 Robots to vacuum your floors
The most common cleaning robots are there to perform one of the most tedious cleaning jobs of them all: vacuum the floors. The whole process of vacuuming is time-consuming and boring. The cordless versions can fill up quickly or be clunky to carry around and the vacuums that attach to a power plug; well, they require constant reattaching of the power cord to a new plug in order to reach all the spaces.
Luckily, you don't have to worry about these problems when you get a robotic vacuum. These helpers will vacuum your rooms and you don't even need to supervise it. All you need to do is turn them on and tell them what they are doing with a few clicks of a button.
There are quite a few robot vacuums on the market for you to choose from and it's a good idea to research different options before you make a purchasing decision. When it comes to the most popular options, Roomba is the original robot vacuum. The company offers a tonne of different cleaning and vacuuming robots in a variety of price ranges. If you are looking for something cheaper, then Bissell SmartClean robotic vacuum is a good option.
Robots to mob the floor
Now, you might also be looking for something more than just a vacuum. Mobbing the floors is another task most people don't enjoy doing and again, you can find robots to the rescue.
Just like with the vacuum robots, there are many options. Roomba's products include mopping machines but you could also go with a budget-friendly choice. iRobot Braava Jet has three different cleaning modes: wet mopping, damp mopping and dry sweeping. The robot is great for cleaning different surfaces, like your bathroom floors or wooden surfaces.
Robots to keep your home office in good shape
You can also find help for sorting out paperwork. There are robots that guarantee you get to clean your home office without much trouble and that you will keep those confidential pieces of information a secret.
You will definitely benefit from a proper shredded. There are some good brands to keep in mind when you want to get rid of papers without cluttering the whole room. Staples is one such brand which can be a great affordable choice, staples discounts at Voucherbin.co.uk could help you save even more money on office cleaning supplies.
But remember, cleaning can also be easier if you've kept your home office in good order. Therefore, robot machines such as an automatic stapler, automated letter openers and robot sorting machines are all useful for keeping the office tidy.
Robots to clean the garden
Cleaning robots are not just handy inside the house. You can also utilise them outdoors and ensure your garden looks as pristine as possible. First, you have the option of high-tech lawnmowers. With these, you can decide the length of the cras and even control the patterns you'd want to have. Robomow has a good selection of choices available in different price ranges.
But one of the most tedious outdoors cleaning jobs has to be clearing the gutter. The good news is that there's now a robot to help do it. iRobot has developed a machine called Looj, which is great for detecting dirt in the gutters and clearing it out. This tedious job has never been easier and it only takes about five minutes to clean a 30-foot gutter!
Finally, you might not get a hand in the actual cleaning but voice assistant services like Amazon Echo and Google Home can be a good cleaning tool. Not only can they play music while you're cleaning, you can also use them to figure out the best ways to clean tough stains and the robots will help you order new cleaning equipment when you run out of products to use. Perhaps you can even get yourself a cleaning robot from the list above if the going gets too tough!