Today's business communication relies heavily on email. Email is very useful for a wide spectrum of communication; personal communication, team communication, announcements, notifications, and much more. Especially in the difficult circumstances of the pandemic earlier this year, businesses are getting more dependent on emails. Remote work is becoming more and more common, and so is email-based communication.
What makes email important is that this method of communication allows each of its users to perform a traceable logging function. Almost all the details can be traced actually.
Email-based communication is very popular and there are various email applications to make your business process smooth and impactful. One of them is Microsoft Outlook which is specially made for business people. Most companies are now using Microsoft Outlook and that's a very effective tool. But, sometimes Outlook fails due to corruption in internal data storage. To note, Outlook saves email data either in the form of .pst file (PST – Personal Storage Table) or .ost file (OST – Offline Storage Table). These are the binary files capable of storing all Outlook data, including contacts, email, and calendar.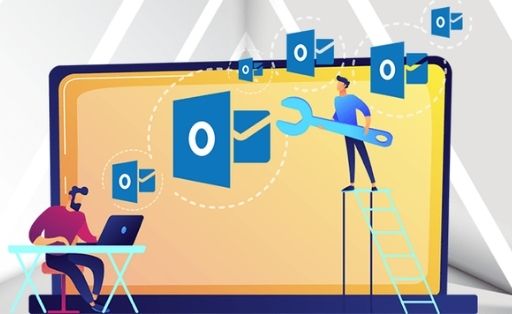 Reasons for Outlook failure and its solution:
Outlook can fail due to several reasons. One thing is for sure, such failure can cause failure to send or receive email. What's worse is losing access to previous emails, calendars, contacts, and reminders too. Here are some common reasons why Outlook may fail:
– PST file corruption
– OST file corruption.
– Damage to Outlook profile.
– Outlook configuration file corruption.
Due to human mistakes or technical issues, if the files are lost or damaged, there are many useful methods and file recovery software that enable the recovery of corrupt PST or OST Outlook files. Make sure you select an effective, secure, time-saving tool that can repair and recover your Outlook data files.
I have tried various tools and the one I can vouch for is Stellar Outlook PST recovery. It is one of the best Outlook PST file recovery software. Not just the repair and recover corrupt PST files, there are numerous features that are accessible and highly useful in different plans of Outlook PST recovery tool.
Professional – PST Recovery, complete Mailbox repair, and restore deleted emails)
Technician – Professional + split large PST file, compact corrupted PST file
Toolkit – Technician + OST to PST converter, merge mailboxes, Delete duplicate emails, recover password, and recover all mailbox deleted items
Comprehensive details can be found online at stellarinfo.com.
Enhanced Software to Recover Data
Scan & recover are the two main perspectives to access lost files. With fast & easy recovery, you may enable yourself to match with your preferences and get satisfied with instant file recovery software to use for your email recovery process. After recovery of the deleted files, save Mailbox data at the storage device according to your preference. This software works on all versions of Outlook, including Office 365. You can export data in multiple file formats i.e. PST, EML, MSG, RTF, HTML, and PDF formats are supported in the recovery process of the files.
Perfect PST File Recovery Tool
Recovery of all mailbox items, files, PST files, deleted emails, and lots of other file formats can be recovered instantly. Stellar PST Recovery for Outlook is one of the best and recommend feature products that are based on the latest technology software and can be downloaded anytime to follow user-friendly guidelines. You can refer to the installation guide to know more about the product. Packages include professional, technician, and Toolkits to access the product usability according to your requirement.
Conclusion
Email-based communication combined with a reliable email data repair and recover tool like the Stellar PST File Recovery Software for Outlook can significantly support your business communications with 100% accuracy and data precision.