Firstly, it is important for you to know more about what exactly is DRM and remove DRM protection from iTunes movie. DRM refers to Digital Rights Management and it deals with the restrictions imposed on a particular content. For instance, you will be able to view or use the content (iTunes movies) only on a specific device. You will not be able to transfer it from device to device. DRM does not let people freely write and edit the content that is restricted. These files will not open in all movie players, either.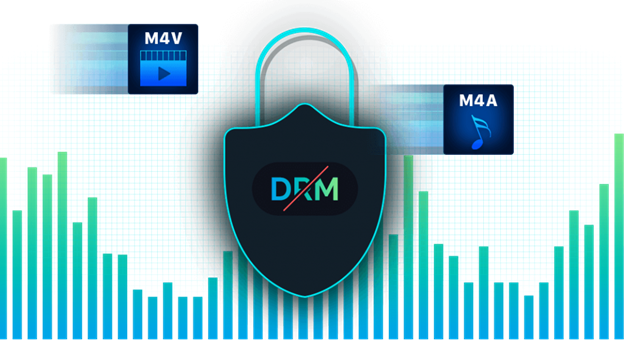 FairPlay is Apple's DRM protection technology, which stops the users from enjoying the files downloaded (songs, movies, videos, audiobooks etc) on any device other than Apple devices. DVDFab has hence come up with a DRM removal software. Basically, a DRM removal software helps you circumvent the restrictions imposed on a purchased content. After you remove DRM protection, you will have full control over your purchased content. DVDFab DRM removal for Apple proves to be one of the best DRM removal software which has the ability to easily bypass Apple's DRM technology, FairPlay. It can remove the DRM encryptions present in the legally purchased content. An important feature is that it hardly takes any time to remove the DRM encryptions. This would result in the production of DRM-free content such as music, audio books, videos and movies. Now you will be able to play and view these content without any hassles on any non-Apple devices like portable music players, smart phones, tablets etc.
Users seem to be quite satisfied with the performance of DVDFab DRM removal software. After the removal, you would be able to watch any iTunes movie or TV show without the need to authorize your device in Apple account. The DRM-removed videos can also be processed with video converters, DVD/ Blu-ray creator tools, etc.
Features of DVDFab DRM Removal Software: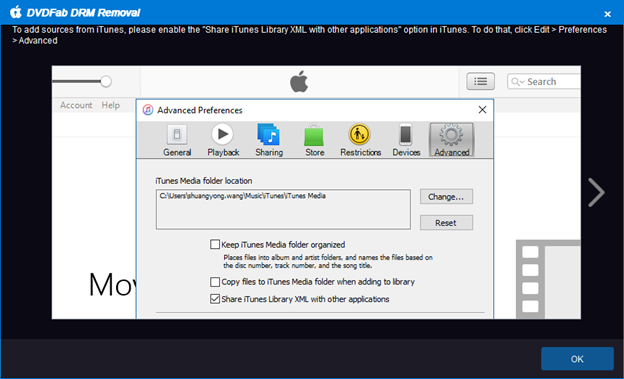 Create DRM-free MP4 video files and M4A audio files: After you're done removing the DRM, the encryptions present in the M4V videos, TV shows or movies render futile. It means that you can play the resultant MP4 files without any disturbance in any non-Apple devices, which are portable. Likewise, the M4P and M4B music files and audio books, which previously were restricted by DRM are converted into DRM-free files, that can be played in any music playback device.

Permanent DRM removal and lossless conversion: Unlike a lot of competitor software, DVDFab DRM removal software ensures that the quality of the resultant files is as good as the original. It removes DRM protection permanently and the original details are, as far as possible preserved in the same manner. These details could be bit rate, frame rate, aspect ratio etc.

Superfast conversion speed and batch processing: DVDFab is quite appreciated for its speed, not just DRM removal for that matter. All its software, including Blu-ray ripping hardly take any time. It also has the capacity of batch conversion. That is, you will be able to process a complete album, playlist or an entire season of TV shows at a go.

More tasks: Once you're done with the DRM removal, you can perform a wide range of activities using the finished file. You can even make a DVD or a Blu-ray disc with a compilation of the DRM free MP4 videos. The final videos can also be imported to the creator module, in order to convert the DRM-free videos to multiple other formats to work well with compatible devices.
Steps involved in DVDFab DRM removal software for Apple:
Startup instructions: Once you've installed DVDFab, select the Utility icon under the Module menu, and then click on "DVDFab DRM Removal for Apple"

Remove DRM Protection

: If you're looking to remove the encryptions from a rented movie or a TV show, click "For Movies" and then if you want to remove DRM encryptions from Apple songs, click "For Music"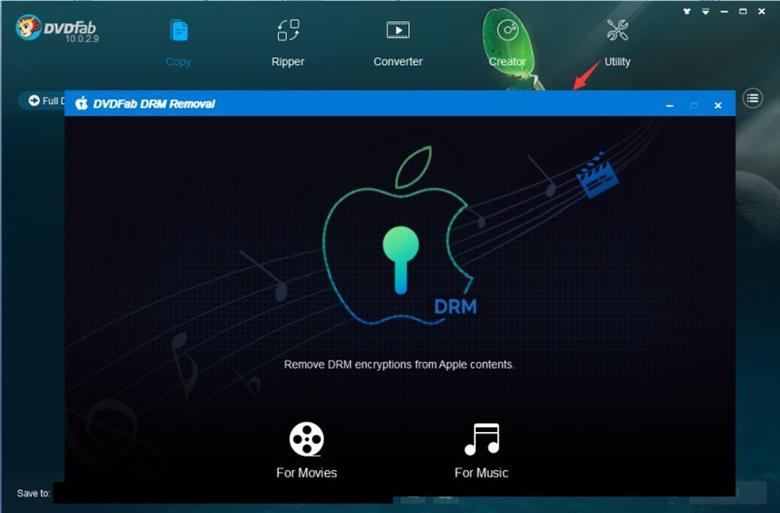 If you want to add videos, select "Add from iTunes" to access the iTunes library directly. You can select "Add from Windows" button to choose the videos from the C drive of your PC.

To add songs, you can select "Add from iTunes directly". Now that you're done selecting the videos, hit the start button to begin with removing DRM encryptions. The well known file formats involved in the process are M4A, MP4, M4P etc.