Did you know that there are two types of PDF files – native, saved by a computer application and scanned, as the name itself says, scanned copy of a document? If the answer is no, then keep on reading the article and learn some useful stuff on the document format you use more or less every day. Also check Best Free PDF Editor Software.
Portable Document Format is one of the most frequently used file type in professional correspondence. It is commonly used to preserve business reports, memorandums, transactional or financial documents and other significant files.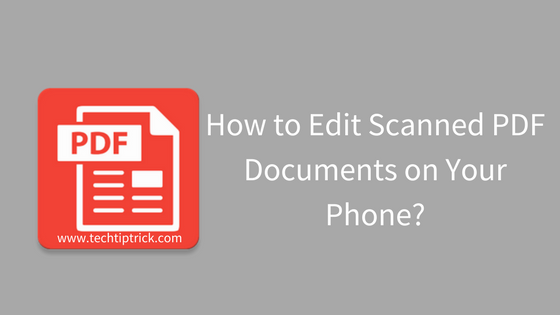 The reason for this lies not only in its professional, clean look but also in its permanent nature. PDF file type keeps the same structure on every operating system, so the document will look identical on Windows, Mac or Linux. However, the most important thing is that PDF isn't so easily editable, so all confidential data is protected and safe.
On the other side, PDFs are not completely uneditable; there is a little trick to make your documents modifiable and correct them or reuse them anytime needed. Here is one way how to solve this issue.
Nowadays mobile phones are always by our side and our faithful companions in handling crisis situations. Therefore, they offer a remedy for this problem, as well.
PDF to Word Converter is an iOS and Android app that accurately converts both, native and scanned PDF documents into editable MS Word format. In other words, the trick is to change the document format in order to work on your PDFs.
Simply follow these plain instructions and your scanned PDF will be ready for corrections, further reuse or data extraction for creating a new document or detailed analysis.
Download PDF to Word Converter from the App Store or Google Play
Select a document you want to convert. Look for it on your phone or popular cloud storages
Once the PDF is converted, open it in Word app and edit it with ease
Just a few taps and that's it! Easy and efficiently.
This little hack will boost your productivity and help you work smarter with PDF documents. This means that you'll create new documents in no time, recycling the old, repetitive ones. As a result, your business correspondence will be faster and more efficient. So, make sure you download PDF to Word Converter and bring your work to a higher level!