A VPN isn't something you "opt for"' these days, it's a necessity, that of course is if you value your privacy, security and anonymity.
Now we've come across quite a few VPNs throughout our career in the industry, and each new VPN which comes out seems to surpass the earlier one in one or other way.
Following the same tracks, the VPN we have with us today is BulletVPN, what caught our eye and attention is the fact that it obviously offers the privacy and protection, but along with that, it also goes on to offer some extra features, which are not as bold with the everyday VPNs we come across.
Also Read: How to Access Blocked Websites?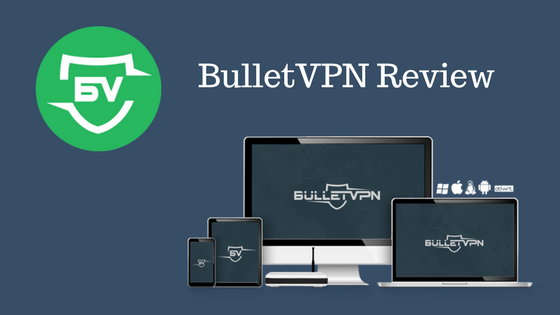 BulletVPN Review: Features
There is the general list of available features such as country selection and connection protocols, but in addition there also are advanced features such as a Free Smart DNS, No logs policy and such. Hence those are the primary reasons why we took to scribbling this BulletVPN review down.
Countries Offered:
So where do you wish to be today (virtually)? This is one of the primary selling points any VPN can have, by offering as many countries to choose from as possible.
BulletVPN totally understands that, and offers as many as 25+ different countries, along with "multi-server" features.
Meaning, to ensure there's no traffic load or speed reduction, it let's you choose from more than one servers for the same country in the case of most countries.
Some of the countries offered include: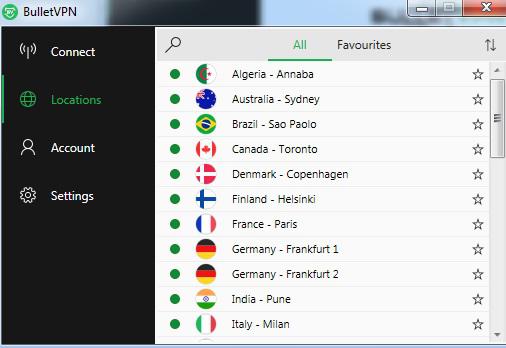 United States
United Kingdom
French
Italy
Germany
Netherlands etc.
The point is, it has more than enough countries for you connect to, and enough servers to support a heavy load, period.
It's Secure:
Apart from "Privacy", what's the other thing that a VPN offers? Security and privacy, right? Well that's where the advanced connection protocols that BulletVPN offers come to action.
Here's a glimpse of why your connection is never going to be intercepted by any third-party whatsoever:-
It offers the following connection protocols: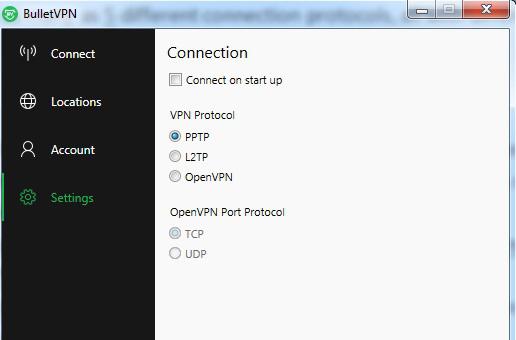 TCP: Transmission control protocol is one of the fastest, and most-reliable connection protocols, for the reason that it verifies each data packet after its sent. This does make it a tad bit slower, but those seconds can totally be exchanged for the security it provides.
UDP: User Datagram Protocol is a protocol which is technically the same thing as TCP, the only difference?
DP isn't as reliable as TCP as it doesn't verify the data packets, which in return makes it considerably faster.
PPTP: Point to Point Tunnelling Protocol.
L2TP: Even though void of strong encryption, when paired with IPSec, it does a pretty good job.
OpenVPN.
Unlimited Speed:
BulletVPN believes in "full features, forever" policy, so once you've paid for any of its plans, it doesn't limit or reduce your speed at any point during your active subscription.
Unlike many other VPNs which have a bandwidth threshold after which your speed is limited, that's not the case with BulletVPN.
Unlimited Bandwidth and Server Switching:
Most other so-called "top-notch" VPNs out there in the industry restrain your freedom by limiting your bandwidth.
So once you've used a certain amount of data on the VPN, your connection is either terminated for the month, or you're asked to pay extra.
But again, another of those reasons which pushed us forward to getting this BulletVPN review done was that BulletVPN is totally liberal and unrestricted with its bandwidth usage.
So doesn't matter how much data is used, they won't ever limit or restrict your bandwidth usage.
Switch and change as many servers and IP addresses you want, BulletVPN doesn't mind. This is another feather in the cap of this BulletVPN review.
Connect Multiple Devices Simultaneously
BulletVPN allows you to connect to 3 devices simultaneously, so you don't need to pay thrice in order to use the VPN on all your 3 devices, instead a single BulletVPN account does that for you.
This saves your hard-earned cash, as well as eases things out because you also don't have to manage three different accounts either.
No logs Policy
Okay so the final nail in the coffin on this BulletVPN review which finalized our decision to put this BulletVPN review out here is the fact that it offers "No logs policy".
What this means is, at no time under no circumstances are your activities and IP addresses logged with BulletVPN.
And this is what makes this a completely isolated, secure and trustworthy VPN to opt for.
Pricing Plans:
BulletVPN, even though offers a plethora of features, does not burn a hole in your pocket. They offer three plans:

$10.98 /month when you pay monthly.
$9.16/month when you pay once in 6 months.
$7.50/month when you pay once a year.
Along with that, they also offer a 30-day moneyback guarantee, which goes on to prove their confidence in their product, along with providing peace of mind to you.
Final Verdict:
Overall, We're in love with BulletVPN, and I'm sure if you've read throughout this BulletVPN review, you've got the reasons of why we're singing these praise-songs.
But in case you've still got doubts, do go out and try BulletVPN for yourselves, you aren't losing anything considering you're backed by their 30-day moneyback guarantee.
Do let me know your verdict on the tool and this BulletVPN review, why or why not will you opt for it? Spam the comments box, it's all yours.