Best Audio editing software for PC is widely search terms in the era of internet, the audio quality while listening to the content on a website becomes very important. It isn't just important for the listener but also for the people who post and upload such audio content. Poor audio quality results in decline in the page visits for the audio/video content, which has been uploaded to the site. Also check best photo editing software.
Ever been in such a situation where the necessity to edit and enhance the audio was important? Have you hunted web pages looking for the free audio editing software to help you come out of bad audio situations? Here is a list of some of the best audio editing software for PC. Some of this software are free. You can just install it on your PC and start editing. So, let's review: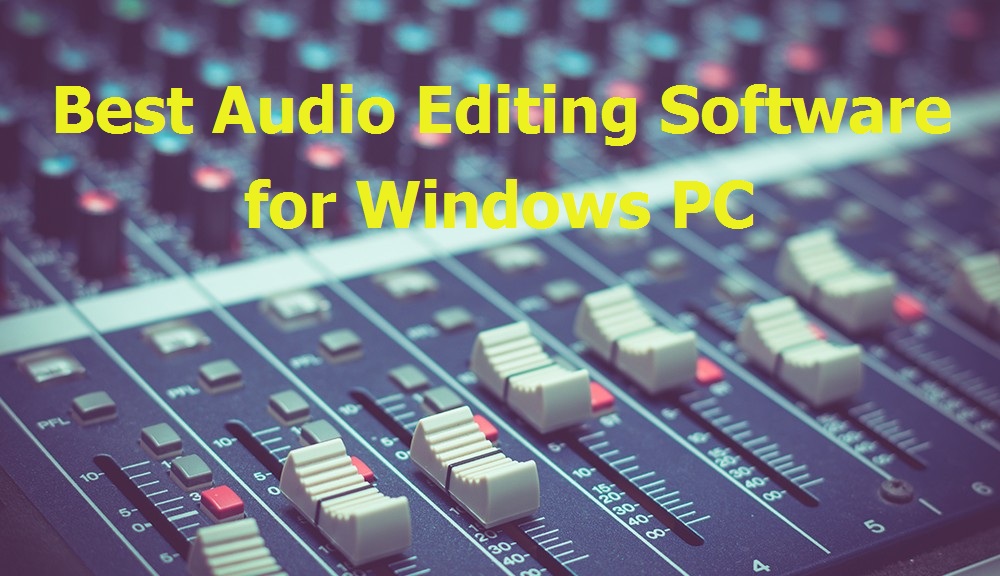 Best Audio Editing Software for PC (Free and Paid)
The completely free audio editing software for PC that you can immediately lay your hands on. So, what is in store when you choose to use Audacity for editing the audio? Let's take a sneak peek:
Simple UI to check and view the various option
Multi-track editing and Live recording
Feature to eliminate or reduce noise in audios
Support to multiple platforms like Microsoft Windows 7, Windows 8, Mac OS X 10.x and Linux
Multiple audio formats are compatible like .wav, .mp3, etc.
Useful sound effects that you can add to audio content
Also check: Logitech Gaming Software Download
Another most sought after audio editing software tool in the market. There are two variants of this software that is available for use – free version and premium version. The premium versions start from $39.95. So, let's see WavePad's feature list here:
An intuitive software providing the professional level of audio editing to your files
Support to almost all audio formats such as .mp3, .wav, .aac, .wma, etc.
WavePad offers a lot of functions of audio editing like a copy, insert, trim, silence, etc.
Compatible with additional plugins, in case you want to enhance the productivity of the content
Support for multiple platforms like Windows 7 onwards, Mac OS X 10.4
Mobile Apps for Android and iOS available
A different tool compared to the already mentioned two audio editing software. There are three editions available in FL Studio, and the basic version of the tool starts from $99. Here is what FL Studio offers with its product:
A full-fledged Digital Audio Workstation that permits your to mix and create audio content
The audio interface is highly professional and lets you work through a lot of many options
Availability of extensions and plugins to enhance the tool's performance and capabilities to suit your audio editing needs
Regular updates to your tool, so that you are kept updated with the state-of-the-art features to use and perform audio editing
Compatible with many platforms such as Windows XP onwards and with Mac OS X 10.8 or 10.9. Known limitation with Yosemite platform is known
Mobile apps available for iOS (various iDevices such as iPod, iPad, and iPhone) and for Android
Another tool in similar lines, giving the Digital Audio Workstation (DAW) experience like the FL Studio. It is priced minimally (as low as $1) and is feature based. A high-level feature list for your reference is shown below:
The complete DAW experience enables to music recording, edit and mix audio tracks
The best suited user experience for professionals like Audio Engineers, Musicians, and Composers. Various options help the different audience
Additional functions such as Routing, Inline Plugin Control are available to mix the audio content
Improved functioning and enhanced productivity of the tool can be bettered by certain plugins
Compatible with limited platforms such as Intel OS X 10.6 to Intel OS X 10.10
Linux MultiMedia Studio is best free audio editing software like above and its also known as LMMS. This software is the best alternative of FL Studio. LMMS has tons of good features like FX Mixer, Automation Editor, support for MIDI Keyboard, instruments, inbuilt audio effects, and compatibility. LMMS software has professional User Interface, and it's plugins that take productivity to a new level. If you are not able to pay for paid audio editing software, then LMMS is the best solution for editing and mixing of music.
Conclusion
Apart from these, there are various other best audio editing software for PC like Adobe Audition, Wavosaur. You can look up for its features and limitations and assess them with these four audio editing tools too!