Certain technological trends pass unnoticed and quietly die out. Others, in turn, become so significant they change the world we live in as we know it. Let's take a look at five major tech trends to turn the accounting industry of 2019 upside down.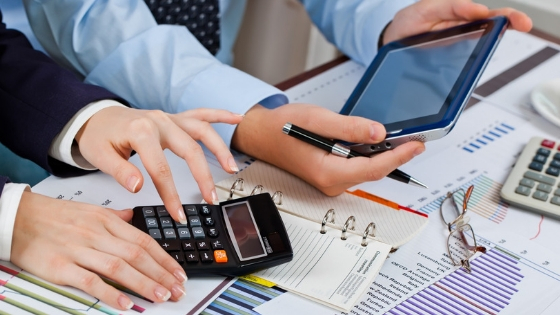 Main Accounting Software Trends
Without further ado, here is a brief look at the five general digital trends in the accounting software of 2019.
1. Artificial intelligence
A powerful advantage of AI is that it is capable of processing huge massifs of info in the shortest terms. This means that, potentially, AI will be able to compose reports and form predictions autonomously with unprecedented speed and preciseness. The technology will also come in quite handy in various analytical studies, making the data collection and analysis much more rapid. Notice that the biggest auditing and financial companies have already adopted AI-powered systems and cognitive tech developments for certain calculations and data analysis affairs. Such a technology, though, is now only used to solve a narrow scope of tasks, with major capabilities expanding year by year.
2. Cloud computing
Calculations in cloud open wide business globalization prospects. You can distribute the relevant data in real time between several accounting departments at once, even despite that fact that these departments can be separated by thousands of kilometers. Moreover, transferring the accounting software to cloud, you can establish a centralized interaction with other software solutions at hand.
3. Automation
Accounting automation allows lowering risks that company employees may experience working on daily tasks. Monotonous procedures, like the processing of large digital data volumes, gradually start getting on even the most competent and responsible workers' nerves. This often causes complicated errors in reports and such. Alternatively, making dedicated software responsible for such mechanical tasks, you can assign more important and exciting work for your accounting department to handle.
Recommended: AP Automation – Why Businesses Need It
4. Blockchain
Developers all over the world have been stating the necessity to implement blockchain in accounting for several years now. The technology allows increasing the transparency of all operations, providing companies with a brand new way to store data. In particular, governmental regulators of national financial operations in the USA have already started involving such products for an efficiency boost. The IFAC experts, in turn, made an announcement that the specialists able to compose reports via blockchain will become much higher in value than accountants working by traditional accounting means in the nearest future.
5. Big Data
Large volumes of data are something that companies are inevitably obliged to face as they expand. This tendency is an especially obvious case if we are talking about accounting. In order to optimize processing and systematizing routines, business software developers have recently started launching publicly products based on the most powerful technological solutions capable of working with the Big Data.
Recommended: Common Misconceptions About Big Data Analytics
Summary
The accounting industry grows and expands by the day. If you wish to build a customized digital solution for your business, let the real experts from Artelogic handle the task regarding your accounting software development – you will get a technologically perfected, scalable product that will stand out on the market as a result!