A thesis is indeed an essential part of an essay, and it reflects the main idea of an article. While some students may fail to work on developing a good thesis statement, it is essential to note that it offers readers the road map to the argument which is developed in the paper. It also gives the readers the most important points of an essay, shows the highlights, and makes them want to read more. It is certainly possible to have various points but it is the thesis which presents a common ground for them. A thesis serves to offer a guideline to readers, structure of the essay and dictate direction and flow in the paper. A thesis not only helps to keep the writer from getting lost but also helps the author in giving the paper a sense of purpose. However, it is indeed important to note that a thesis must always appear in the introduction and not elsewhere. Engaging the thesis in the introduction helps to efficiently set up the paper and makes it easy for readers to understand the main idea presented in the essay. It also sets the reader up for the rest of the essay.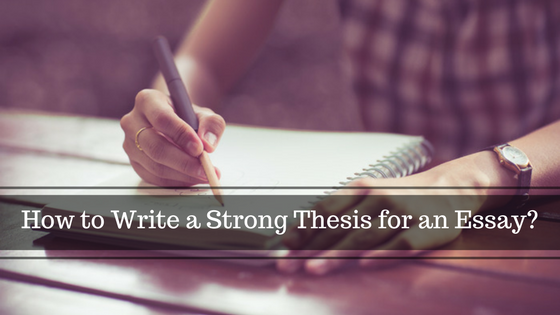 Tips for writing a strong thesis
Currently, there are numerous online platforms that offer custom thesis writing services. However, students are always advised to be cautious when selecting a company before placing their order. Using these services is not bad but students should also strive to do their tasks by themselves. When you decide to write an essay, a strong thesis statement is indeed of the essence and the following points should be considered:
A strong thesis must communicate the subject matter of an essay. As stated earlier, authors are always advised to embrace a thesis statement in the introductory paragraph of their essay. This not only helps readers to comprehend the author's main point but also to view and understand the subject matter under study.
A strong thesis must avoid ambiguity. Writers should always avoid ambiguity when writing a strong thesis since this will make them contradict themselves and deviate from the subject matter.
In numerous occasions, a strong thesis helps in explaining the scope of an essay. The scope of an essay can either be specific or general. While this might become clearer as the reader progresses in reading the essay, it is essentially through the thesis whereby authors definitely provide their scope.
Through a thesis, readers are able to convey the essay's direction or flow. A prominent position for a strong thesis statement is at the end of an introductory paragraph since readers are used to finding theses there. This helps them to capture the author's position in a subject.
A strong thesis must look forward to the counterargument. When writing an essay, writers ought to think about what might be said against their essays. This helps them in refining their theses and gives them room to think of the arguments which they will need to refute later in their essays.
A strong thesis statement should be specific. When writing an essay, writers ought to note that they should be precise in whatever they are writing and be supported with specific evidence. General terms and abstractions must be avoided at all costs in order to enable the reader easily view and comprehend the subject matter under study.
Strong thesis statements should never be conflicting or confrontational. Authors are always advised to avoid conflicting ideas as this will be hard to contest. It may also ignite a defensive reaction to the readers which might divert their attention or make them stop reading the article.
Strong thesis statements must encompass a definitive and argumentative claim. While reading the thesis statement, readers should react to it. The statement should persuade them to read through the rest of the essay.
A writer must also indicate their position in a thesis statement. In order for a thesis statement to be efficient and effective, the writer must pick a side of an argument. Not only does this help the reader to clearly comprehend the author's viewpoint but it also makes it easier to follow the idea being portrayed.
A strong thesis statement makes claims which are later on supported in the essay. When writing an essay, the author ought to have claims since they are the critical points that build the roadmap to an argument. Each of these claims must be backed up with extensive evidence. These claims might be thought-provoking and through them, the reader understands how the author intends to support them.
Fundamentally, strong thesis statements should be original. An author must avoid general arguments and statements when writing an essay. This helps a reader not to get bored and lose interest in further reading of an article. The author ought to keep revising till the thesis statement reflects the real ideas presented in the essay.