WhatsApp updated its video calling feature for Android mobile user. Now Android user can do not only voice call but also can video call with their WhatsApp friends. Now a day WhatsApp has 1billion active user.
WhatsApp video calling feature in most awaited feature for Android users. Android user your wait is over now. WhatsApp updated its video calling feature. After download and install the latest WhatsApp version v2.16.80 you will able to do video calling as well as audio calling from WhatsApp.
Check the below screenshot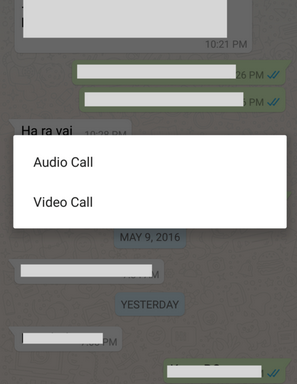 After updating WhatsApp new version you can choose video call from WhatsApp call menu and you will able to make video call. I mentioned here step by step guide for how to activate(enable) the Whatsapp video calling feature on Android device.
Step to Activate WhatsApp Video Calling Features
1. First of all you need to download WhatsApp latest APK
2. After downloading this features, you have to install this APK on your Android device.
3. In case your device don't give you permission to download this APK file, you need to enable installs from unknown sources on your Android device. Go to Setting -> Security -> Enable Unknown Sources.
4. Now go to your WhatsApp, open your contacts and click on the call button to make a call. Now you can see both video call and audio call options. Boom, your WhatsApp video calling is successfully activated now.
After completing this process. When you try to make video call you this below message on WhatsApp that,"Couldn't place the call. Video calling is unavailable at this time."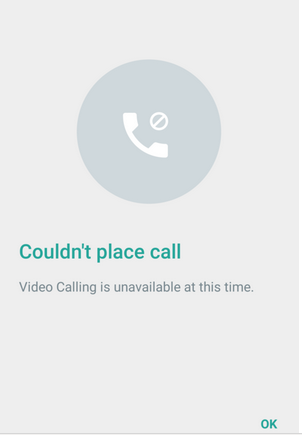 Its just because WhatsApp video calling feature is in beta APK. WhatsApp not activated its video calling features yet. In future, whenWhatsApp successfully activate this features, you will be able to make video call. If you downloaded this and installed this version, you will be among the first person who will get WhatsApp video calling feature.
If you can't download the APK fill which mention above then you can get it from Google Play store best testing program.
So, finally you can enjoy video calling feature when WhatsApp activate this feature for all. Share this post with your friends to inform them about Whatsapp video calling features.