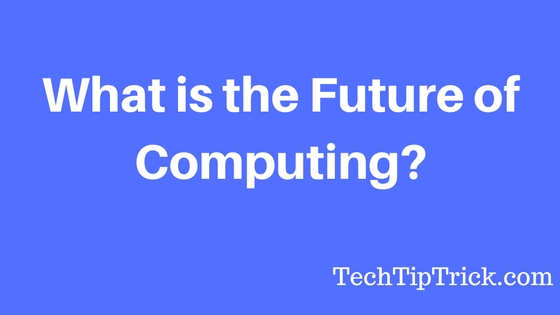 With the increase of the revolution and computing technology, significant scientific advancement has been done for years. Starting from big computers coming with monitors, keyboards and whole big box to the smart wearable devices, computing is everywhere, which has changed our life ever more.
Today, when we look at the more devices, we can easily dig out the major advancement that has been made in the recent years. So, how our future will be?
Here, a vision is presented to show where the latest computing will take us in future.
Virtual Reality – Virtual Reality is what pushing us beyond our human body into the digital world. Getting flopped in the earlier days, may still assume the technology has not been very impressive. However, the latest gadgets seem to be more promising with lots of abilities.
Virtual reality will now get more physical – Now, you can participate physically in the virtual world. It may also get to introduce visual senses, like what the body feels like smell, wind, or temperature.
Wireless won't happen soon– With the companies like Samsung and Google who brought reasonable price devices to experience virtual reality, companies like Rift and Vibe have not planned to deliver with the wireless technology soon as it has not advanced yet.
Augmented Reality – Augmented Reality has quickly become an important technology in the world today. With the technology bridging the digital world with the physical world, lots of emerging technologies will be implied in the near future. The technology forecast has analyzed the technology shaping the augmented reality with lots more 3D capabilities, implications of optics, and other key technologies.
Perceptual Computing – Now what comes next is the perceptual computing, where the idea of computing is in your computer interaction with the natural senses. Here, the interaction is made using the eyes with the computer. Technologies are capturing the eye movement to control the monitor screen. Intel has led in this technology and developed a RearSense Cameras, which is multimodal and can be embedded with a wide range of devices.
Wall Computing – Microsoft is all set to bring its Surface Hub, which is a touchscreen device mounted on the wall to play with. It looks pretty much like PC having Windows 10 and can be used for presentation and conferences. Microsoft is looking to incorporate the wide advantages to digitize the whiteboard.
Smartphone as PC – Thanks to Microsoft to powering the desktop with the smartphone, known as Continuum. Using Continuum, one can connect their Windows 10 mobile phone to display Windows desktop experience while connecting with a monitor. Use your mobile phone to control the PC or connect a keyboard and mouse for interaction.
Intel's Wireless Future – Intel's brought a new concept to help human get rid of the wires. This is what called as a-wire-free PC. WiGig is what that connects your PC, hard drive and other computer peripherals to PC cables.
Microsoft Band Futuro Edition – Microsoft's band fitness tracker is a latest innovation where the company is making evolution to change the look of the fitness band. Unlike the rubber strap it will be something wraparound which would look exactly like jewelry when not in use. And more will be maps, emails display, calendar invites, and many more coming on the way.
3D Life – Ostendo, a California based startup worked on a project called Quantum Photonic Imager, which brings 6 clips together to display a 3D video without a glass.
Quantum Computing– Quantum computing is a more sophisticated computing that can solve big problems millions of times faster. It uses quantum bits, which can be zero, one, both, or something between the two.
Man-made computers are not enough to produce the result we desire. The latest computing advancements have brought few characteristics that have got the potential to make the system more efficient, powerful, and compact. Providing our brains with using new support, now human can enter into a new digital world and experience the things way beyond what we have actually thought once.
Latest computing technologies deliver energy fluid incorporating devices and technology to produce efficiency. In fact, industries will find ways to pack more power into the chips and delivery more efficient system in the future.