Wayback Machine is used by many people every day, and it is one of the best internet archiving websites. Individual as well as many businesses use it for accessing deleted data, understand their competitors and also to create business strategies. Wayback Machine will allow seeing how a website developed and the history of an archived website.
There are many uses of it other than above-listed uses. Access to Wayback machine is important, and hence most of the times it is used in a critical condition. Unluckily, they will not give any guarantee that a website will never be down, so you have to ready for that. Due to this, we need a Wayback machine alternative.
Recommended: Best Kodi Skins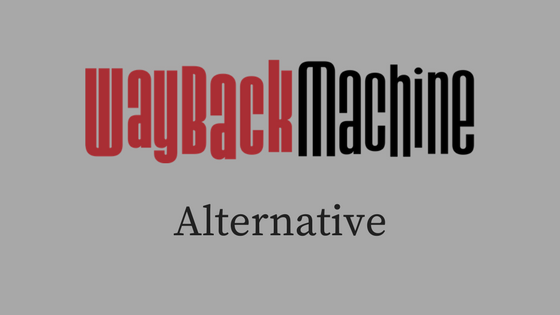 This alternative will help you when the Wayback machine is down and also you can try some different features, too. So today we will help you to find some of the best Wayback machine alternatives with its unique feature that will force you to use them. So below here is the list of sites like Wayback machine, start reading and find the best.
Best Wayback Machine Alternative
Let's take a look at the websites like Wayback Machine, shall we start?
#1. ScreenShots
ScreenShots is one of the best choices to the Wayback machine. As the name suggested, it takes a snapshot of the websites and saves each of them into the database. Using screenshot, you can access the snapshot only; you cannot access the other things like codes.
#2. Archive.is
The archive is another Wayback machine alternatives. The archive.is comes with great features that cannot offer by any others. It is very popular among the user due to its functions, easy navigation, and user-friendly interface. They provide you two search bar in which you can access the content of a website and also take a screenshot of it. Using its unique features, you can search screenshot and code of any page of the website. But you can't share the screenshot as there is no such kind of option is available. Additional features include downloads the report, download the code of all content and screenshots.
Also Check: ES File Explorer Pro APK
#3. iTools
iTools is also a candid website and provides you all data of any domain name. This site uses the Alexa database and tells you about a competitor's website, domain popularity, and traffic of a website. You can approach the archive tools very simply by click on the internet option provided on the home page.
#4. Competitor Screenshots
It is an alternative internet archive sites. Here, you can find the screenshots of any domain. You can access them. Even you can access the email and other features too, but for that, you have to sign-in in an account. So first register on this website, and access all the amazing features for free.
#5. Pagefreezer
Pagefreezer has known an alternative to Wayback machine and offers its user lots of functionality, and also one can extend his/her business using it. You can see all the archive content of your competitor's website and for that no need for any special technical skills. Just need to sign in and start using all features.
It makes the archiving procedure for website easier because its archiving is automatic. Pagefreezer is the best online source for you if you want to archive the data of your website for marketing or extension of your business.
Also Check: SB Game Hacker APK
#6. Domain Tools
Domain tools are information database and hence one of the most popular domain. Normally all websites like Wayback check the domain registration dates and ownership details, but domain check can also search for the domain's history. What you have to do is just add the domain name in the search box (the non-www version), and it will provide screenshots of that particular domain from its database in a few seconds.
#7. Alexa
Alexa is the most famous, and there is no need for an introduction. Most users are aware of it due to its outstanding reputation. It is fundamentally an Amazon.com company that provides the browsing details and history of the website in detail. You have to enter the web address of desire website and all done! In a few seconds, you will get all the details of past visits, regions of the world where it is highly visited, visiting duration, etc.
#8. YubNub
YubNub is wonderful, with a user-friendly interface. If you want to access the information about any website for business or commercial purpose, then it is the best for you. To use it is quite easy because it works like a search engine. So just type URL in the search bar given on the home page and click on search and all details are ready without delay.
#9. WHOIS
WHOIS websites like way back machine can be considered another great source to archive the history of any website. It also shows the search website's registration and expiry date also. You have to type the domain name in the search bar, and history appears on the screen. In general, Whois providing the domain name registration services, with an easy interface to archive the information about any website and its ownership.
#10. WebCite
WebCite gives you a very satisfactory interface to access its archiving device as an internet archive website. You can start archiving the data of your desired website by giving the domain name in the search bar and a valid email ID in the box. You have compulsory provide the mail id, but it is safe so don't worry about data. With the email, they will send you a verification code and then start the archiving process. So, as you present the expected URL and email ID, you are led to the information page.
Also Check: XmodGames APK
Conclusion:
So it is the list and details of the best Wayback Machine Alternative Sites. All the listed sites are working properly, and you can trust them. So select the one according to your use and convenience and start browsing the competitor's site. If you think you find a better choice than let us know via using a comment box so that we can explore it for others. You can use the comment box for your queries, too.
Hopefully, you like this article, and if it so, then share it as maximum possible. Do not forget to share your reviews, thank you for reading!!