DRM is nothing but Digital Rights Management. When you purchase something from iTunes, it has a lot of DRM encryptions within, which will restrict you from sharing the content with others, or even viewing the content in another device. You would have no control over the purchased content when it is encoded with DRM. Whatever you purchase from iTunes generally has DRM. DRM software deal with bypassing or removing these DRM encryptions so that you can enjoy the movie/video/ audio book file that you've purchased in any device and in different formats later on. TunesKit is one such amazing DRM removal software that will help you remove DRM from iTunes movies.
TunesKit iTunes Media Converter is available for both Mac and Windows.
TunesKit Media Converter for Mac
: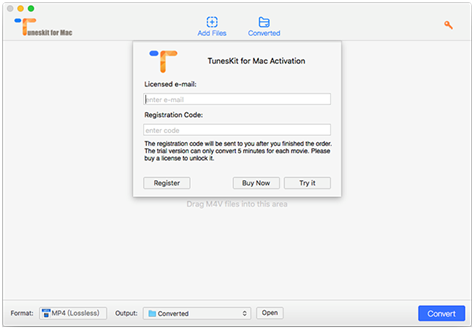 This software helps you remove DRM present in the iTunes content you purchased and convert those iTunes M4V files and purchases to DRM-free files which could be any of the following formats: MP4, MOV, M4V, MPG, AVI, FLV, MP3 etc. The subtitles are also preserved in the resultant file, along with 5.1 audio tracks.
Supported Operating Systems: MacOS 10.12 Sierra, OS X 10.11 El Capitan, 10.10 Yosemite, 10.9, 10.8 and the latest iTunes version.
DRM decryption can be easily removed from iTunes movie rentals and purchases: The DRM control is cracked in both iTunes M4V rentals and purchases on Mac OS. After it is cracked, the resultant rentals and purchases can be enjoyed forever, from anywhere. For that matter, even high definition 1080P movies can be now enjoyed in any device, hassle-free.

iTunes M4V files can be converted to various other formats to suit a wide range of devices. A lot of advanced methods are used to convert these DRM protected iTunes M4V to formats like MP4, AVI, M4V, MOV, MPG, FLV, MPEG-1, MPEG-2, 3GP, 3G2, SWF, MP3, AAC etc. The output video settings can also be changed according to your wish.

Now that you have full control over the purchased content, you can easily convert the iTunes M4V movies to suit various devices like smartphones, tablets, iPhone 6, iPhone 6S, iPad, iPod, Htc One, PS4, Xbox 360, Sony Xperia etc.

Along with the conversion process, TunesKit also tends to preserve the original subtitles, multilingual audio files and closed captions and even 5.1 audio tracks. Its advanced DRM core helps convert DRM-encrypted iTunes movies at 30X faster speed than normal. It is known to be the world's fastest iTunes DRM Media converter. In fact, the output quality is also amazing.

TunesKit helps you permanently remove DRM FairPlay present in iTunes movies. It also supports batch conversion and lets you upgrade the software as and when something new is added. It's quite user friendly and helpful.
Guide on how to remove DRM from iTunes movies losslessly with TunesKit:

Note: Before conversion, you can adjust both the output format and the path by clicking on the format and output option.
Click "Add files" to import iTunes video files to the TunesKit software. This can also be done by dragging and dropping the files into the converter.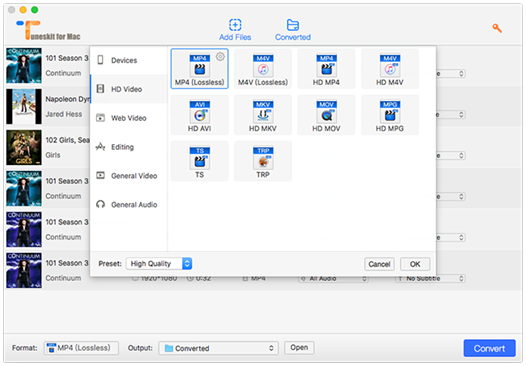 To adjust the format of the output and for further customization, click the format button. (If you don't change the output path, the files will be saved in the converted default folder. For customization of output settings such as bit rate, channel etc, customize the output directory in the popup window and then click "Open directory")

After this, you simply have to select the "convert" option in order to begin converting iTunes M4V videos to MP4 and other well known formats. In case it is closed after being started along with the program, iTunes will be launched again.
Note: The same procedure is followed even for Windows.
TunesKit Media Converter for Windows
: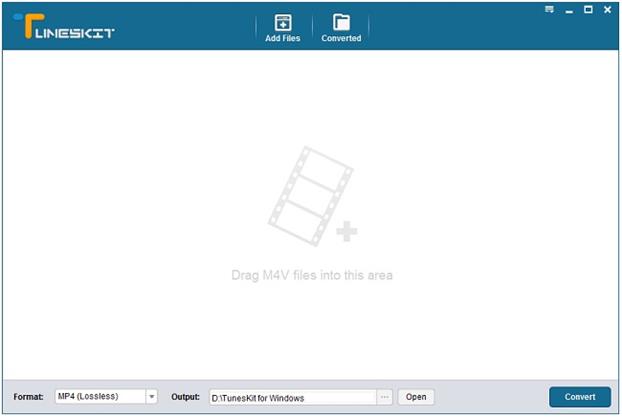 Similar to the Mac version, even the Windows version helps you in iTunes DRM removal. It helps remove DRM from iTunes movies and videos and convert them to common MP4 format, retaining all the original subtitles and audio tracks.
Supported OS: Windows XP, Vista, Windows 7, Windows 8, Windows 10 etc.
As mentioned before, in a DRM-encrypted iTunes movie or video, we would have absolutely no control. We would not be able to play it in other devices. The TunesKit iTunes DRM Removal software for Windows assists you in bypassing the DRM protection easily.

iTunes M4V movies are generally not acceptable by many portable devices. So the DRM-free converted files are supposed to be converted again to suitable formats. Tuneskit helps you converted iTunes M4V videos to common MP4 formats with both good speed and lossless qulity. The audio tracks, subtitles and even the AC3 dolby 5.1 surround is retained!

You might find it difficult to convert iTunes M4V videos to different formats perhaps as you are not aware of the settings of different devices. Tuneskit, however will help you convert iTunes M4V videos to common MP4 formats, which will work pretty well in most of the non-Apple devices such as Samsung Galaxy S5, S4, S3, Galaxy tablet, HTC One M8, Nexus serie, Nokia Lumia series etc.
Both the Windows and Mac versions of TunesKit iTunes DRM Media converter have a free trial. You can check out the various features as mentioned above during the free trial period.