Today's digital world is all about technology. With the increasing pace of digital advancements, consumer expectations are increasingly growing. Mobile app solutions are often a great way for meeting these expectations. According to Statista, the number of mobile users is likely to rise to 7.49 billion by 2025 worldwide.
Not only do they use their smartphones to order food and grocery or book tickets, but they also apply them to make financial transactions and see daily balances. That's why developing a mobile app is a top priority for businesses aiming to reach out more potential customers and keep them engaged.
Recent statistics indicate that 82% of businesses that have a mobile app in place achieved desired business growth and increased revenue. Sounds impressive, right? Only by investing in the right technology can launch a mobile solution that will help you increase brand awareness, offer something out-of-the-box and keep your business flowing.
Let's discover the most popular apps powered with Xamarin that grabbed attraction of the people around the world.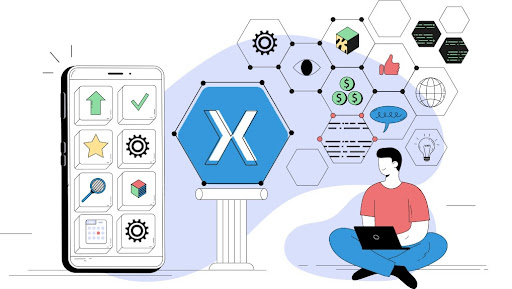 Xamarin technology: What's it exactly?
Developed in 2011, Xamarin technology aims to create mobile apps with a native look and feel. Being an open-source tool, it allows software engineers especially .NET ones to deliver Windows, iOS, and Android-based applications quickly and easily. Thanks to its ability to leverage the functions provided by the mentioned above operating systems, it gives the desired performance and provides great application speed.
Moreover, powered with amazing features such as code re-usability, quick time-to-market, API access, etc. it is considered to be an attractive and profitable solution for businesses across a wide range of domains. According to research by Forrester, not only does Xamarin technology reduce costs on management and development, but it also optimizes the utilization of existing developer resources.
Popular applications built with Xamarin technology
Let's overview how some of the tech giants serve their troubleshooting purposes by using mobile apps as a bridge between their company and potential users. Keep on reading!
#1: The World Bank
Being one of the largest financial institutions, it provides financial products such as loans, grants, and interest-free credits as well as technical assistance across low- and middle-income countries. Not only does it help them create sustainable economic growth, but they can also adopt innovative knowledge and solutions to the challenges they face. Only by investing in the poor people through quality education, health care, jobs, and skills can they combat extreme poverty and try to create more inclusive societies. With Xamarin technology, a team of software engineers managed to implement mobile-based survey tools containing survey data, questions, polls, etc.
#2: Olo
Known as an online ordering software with point-of-sale integration, it aims to help hospitality businesses deliver a great customer experience. Not only does it add online ordering capabilities to their websites, but it also enables them to analyze customer data and organize the delivery process with a simple click. Having written in C# and .NET, the development team opted for Xamarin technology to re-build their mobile app.
#3: Storyo
Being a free tool, Storyo is used as the first meta-storytelling application to produce packages based on the photos and video in your mobile gallery together with text, audio, location information, etc. Not only can you combine parts of different pictures and audio to create short multimedia in a jiffy, but you can also share your work on social media with ease. Moreover, it enables you to select a plethora of animation styles and soundtracks for your future movie. Thanks to Xamarin technology, the development team built an app as quickly as possible and introduced it to the audience in six months.
#4: Captio
Businesses in banking, logistics, public administration services derive major benefits from using Captio app. Not only does it help you manage expenses and simplify back-office operations, but it also enables you to set notifications and take control of expenses. Moreover, you can automatically generate reports based on receipts, bills, mileage, etc. captured from your mobile. Backed with Xamarin technology, the app is loaded with multiple native-like features such as push notifications, seamless experience, synchronization, payment integration, etc.
#5: FreshDirect
Used as online food and grocery delivery app, a Dutch grocery giant enables both Android and iOS users to select products from a big catalog and make orders with a simple click. Sourcing the freshest products through direct relationships with suppliers, growers, and farmers, the team does its best to deliver great food and value to the users. Powered with Xamarin technology, the app pioneered online grocery shopping by providing a visually pleasing UI and delivering seamless on-demand food services worldwide.
#6: MRW
The app gives customers full visibility of their shipment by letting users know of any issues that occurred on the package's journey from origin to destination. Not only does it help them avoid lost shipments or unwanted costs due to delays, but it also allows them to be in the know about the status of the package at any given time. Thanks to Xamarin technology, the navigation mobile app allows users to track their shipments and locate the nearest MRW office with a simple click.
#7: CA Mobile
Instead of visiting a bank physically, you can open an app and stay on top of your finances on the go. Moreover, it allows you to execute transactions in real-time and place requests 24/7. With CA Mobile, you can handle your money with ease by keeping a tab on your financial transactions. In addition to that, you can exchange currency and make mobile savings. To respond to the ever-growing need to make transactions online, the company opted for Xamarin technology to speed up time to market as well as meet the security requirements.
Bottom line: Ready to place your business in front of your customers with Xamarin technology?
Currently, more and more businesses all over the world are going mobile. Not only does it help them deliver services and goods to their customers, but they can also take advantage of the growing number of smartphone users and boost their return on investments. However, investing in a mobile app is not enough for your business. Not only should you define your business goals, but you also have to pay close attention to the technology to achieve success. Whether you tend to improve your business processes or want to boost your profitability significantly, there is hardly any employee that won't reap the benefits from incorporating a mobile app.