Online Grammar checking websites help professional writers to create awesome content that their readers love to read.
In order to have a strong proficiency in the English language, grammatical mistakes are the first thing you should avoid. But, unfortunately, you end up making mistakes when you write long contents or paragraphs.
With the help of an online grammar checker, you can correct all grammatical errors, spelling mistakes, punctuations, and sentence constructions – it's the equivalent of having proofreading services at your disposal whenever you choose. It can even help you to identify – and prevent – plagiarism. It literally enhances your vocabulary level and teaches you how to do error-free writing.
So, if you are into academic writing, research work and professional writing, check out these 5 best online grammar checker websites.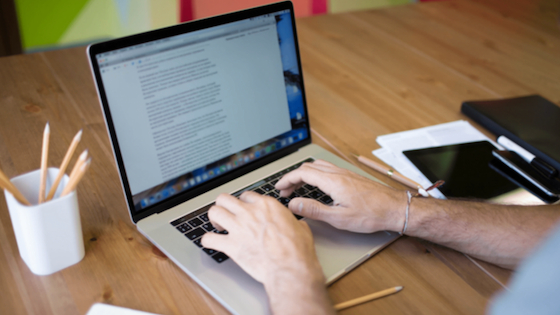 Best Online Grammer Checking Websites
1. Grammarly
This is an ultimate GrammarChecker.online tool that helps you to check grammatical errors, spellings, punctuations and even detect plagiarism at absolutely free of cost. Grammarly free version is excellent for the students to check their essay papers and also for the job professionals to write error-free emails and project documentation. The premium version is recommended for professional writers and researchers. It offers Grammarly premium free trial for 7 days with a choice to cancel subscription anytime. The premium version provides in-depth plagiarism detection, sentence style enhancements, and vocabulary suggestions along with Grammar, spelling and punctuation checks.
2. Ginger
Website: https://www.gingersoftware.com/grammarcheck
This is the second best grammar checking website after Grammarly. It does excellent proofreading of your written content, and corrects mistakes instantly like –spelling and punctuation correction, grammar correction, vocabulary enhancement, and sentence style enhancement. The 'sentence rephraser' of Ginger is an additional advantage that suggests you with English idioms and enhances your textual writing patterns for perfect sentence construction. Apart from being an online Grammar checker, Ginger also provides excellent Personal training sessions, Dictionary, and Translator facilities. It does not offer plagiarism detection.
3. Whitesmoke
Website: https://www.whitesmoke.com/
This is not a free website but an excellent one to detect in-depth grammatical errors and plagiarism. The website has got a high-end proofreading quality and instantly provides suggestions for sentence enhancement, correct synonyms of words, and vocabulary suggestions along with spelling, punctuation and grammar check. It is highly beneficial for checking lengthy essays, business documents, and professional contents. Its AI-powered analysis algorithms help you to detect plenty of hidden errors which you might not find in other sites.
4. Hemingway
Website: http://www.hemingwayapp.com/
This website is basically a text editor. It is perfect for improving sentence construction, style, readability and correcting grammatical errors. The website proofreads your written content and instantly marks the complicated sentences with red color and long sentences without a break with yellow color. As you hover over them, it gives your hints for the corrected form of the sentence so that you can construct accordingly. It also points out the misuse of adverbs, weak constructions and passive voice with distinct colors. It is an amazing tool for the Bloggers and Content writers to improve their content readability and style.
5. Prowriting Aid
This is another wonderful choice for the Bloggers and Content Writers. The website comes in both free and premium versions. It is an amazing proofreading services and instantly helps you out with grammatical errors, punctuations, spellings, sentence enhancements, Style issues, and finally plagiarism. It is an all in one solution for all writers and the prices are also affordable compared to other websites. It has got one of the fastest editing tools and continuously lets you learn while it marks your mistakes and helps in correcting them. It easily integrates with all browsers and is extremely easy to use.
Final Words
The above-mentioned websites are recommended for all professional writers and students to have perfect error-free writing.
Related Post: