MyUKmailbox Review
MyUKmailbox is a mail forwarding service which is offered for people all over the world, in multiple countries. It ensures that your package is safely received from the sender. Next, it passes the package on to the end user, that is, you. This helps people buy goods online or locally and send it internationally across other nations to somebody living in a foreign country. This service is a blessing in disguise in terms of re shipment and travelling.

Step-by step process:
A lot of people across the globe are interested to buy wonderful unique products from online stores in UK. However, the main disadvantage is that the shipment and import rates increase by a huge margin and pose as an issue. But then, MyUKmailbox exists for that very reason! To help you save import costs. Your location is the main reason why prices of the shipment tend to increase so much at the end. To avoid this, myUKmailbox acts as an intermediary body. It forwards parcels from one end to the other end.

You will receive your own unique suite number in the company warehouse which is present in UK, once you have registered and subscribed for myUKmailbox. Now you choose the goods that you want to buy.

After this, every single shipment that is delivered in the warehouse is photographed and emailed to you. Apart from this, the main part of the process occurs at this stage. That is, various individual orders that you have placed are received by the warehouse and accumulated in your suite. There are made into one single package. Thus, costs are cut down to a huge extent.

For example, if you order from multiple websites like eBay, Amazon, Asos etc then these individual products are received and put together in one shipment package. So, the receiver would receive only one package containing all his order. This cuts down costs to a large extent.
This process is simple but it has a lot of steps. After you create your own personal account, you will be able to track your shipment. The company updates the location of the shipment then and there. For this purpose, you will have to log in with your own username and password. myUKmailbox takes extra care when handling the products, when packaging and labeling them. Labeling is done neatly and properly with accurate details. Documents like shipment bills, airway bills, invoice etc are attached with the package. An email of the scanned copies of these documents is also sent to the user. It's also made sure that the shipment is delivered on time. They try to avoid delay as much as possible. The customs department and clearance department are clearly instructed to deliver the products safely. Reliable delivery guys are used in the process.
Note: International freight forwarding service starts at $11.50. You should try recommending this service to your friends circle. There are high chances of getting a 10% offer on your next order.
The customer service of the company is impressive. The website comprises all contact details like the telephone number, email address etc. All your queries will be promptly dealt with once you let the officials know your issue. The support team has been appreciated owing to its honesty, dedication and sincerity. A lot of customers tend to give great feedbacks on the services provided by myUKmailbox. The most important feature of this service is that it is offered at an economic price, affordable by everyone. myUKmailbox maintains deadlines quite well and all these aspects direct towards the name the service has earned today.
Plans and pricing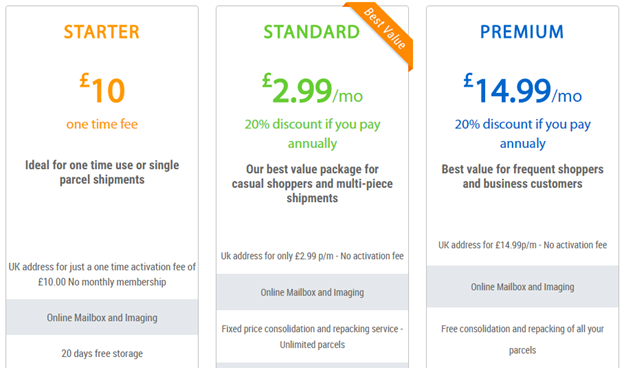 There are three different types of schemes, Starter plan, Standard plan and premium plan. The starter plan is ideal for one time purchases and single product purchases. The standard plan goes well with multiple purchases and casual shoppers. It's apt for multiple freight shipments. Premium plan is perfect for people who shop quite often. It's meant more for business customers.
More about services:
Freight forwarding:

Parcel forwarding

helps customers import products from international locations, mainly UK. You will now be able to possess all the products you ever dreamt of, at an amazing price deal. You will then get your own unique UK street address where you will receive your shipments through Royal Mail, DHL etc.

Photo service: This is an exceptional feature of MyUKmailbox along with parcel forwarding. Your products will be clicked and the photos will be mailed to as soon as possible. The photos will be of high definition. You will also be mailed the scanned copies of documents like invoice, airway and shipment bills etc.

Address book is a service that is limited to the premium members. Members can have more than one address with which they can perhaps gift their family and friends with stuff from UK!

Other services like supermarket shopping, free storage and tracking are also offered by myUKmailbox. This service is however available for both premium and standard members.

myUKmailbox also offers you the service of shipping unusually big products without any hassle whatsoever. This is considered an economic method of importing products.

BuyForMe is another service launched by myUKmailbox to assist people whose billing locations are not accepted by the company. The company refers to the e commerce online service from where customers buy products. This service also provides for delivery of products purchased outside of UK.
The blog feature of the website is pretty innovative. It has a collection of articles where you can get suggestions and ideas related to what to buy and what not to, how to pick products etc. It also talks about the recent trends.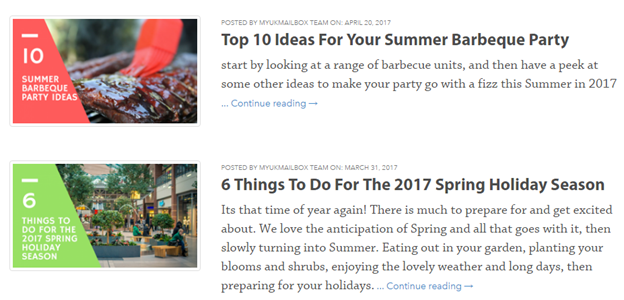 myUKmailbox is an amazing parcel forwarding service. It's the best of its kind owing to all the above features. Check it for yourself.