VPS stands for Virtual Private Server. It resides between shared and dedicated plans on the hosting spectrum. A server can be divided into virtual machines or virtualized partitions in VPS hosting. In this type of hosting you have more computing resources and as well as more control.
A virtual private server acts as an independent dedicated server though the server may contain other virtual environments and it also runs its own operating system copy. Along with that the users have administrative rights to their VPS and they can also install their own instances of various applications such as MySQL, Apache and PHP.
VPS hosting plans are more expensive than shared hosting because of its upgraded features, resources, and support but affordable services can also be found. Hosting providers start out around $30 per month with simple, bare bones VPS plans. And when you add resources and servers then prices obviously grow. It's another major benefit is the ability to quickly scale the infrastructure to meet the traffic demands.
It is a great option for small or medium scale businesses to improve in the field of control, performance, and flexibility. The users of virtual private server have more experience on professional level and they know about the business needs from web hosting. VPS increases the availability, speed and security that are essential to every business.
Recommended: 4 Ways in Which Your Web Hosting Affects SEO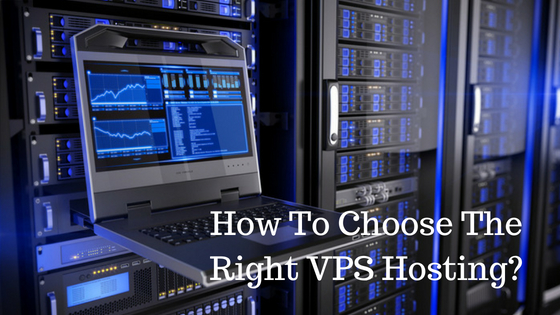 There are many amazing VPS hosting services but the top three are:
InMotionHosting.com
LiquidWeb.com
Bluehost.com
Choosing the right VPS is extremely essential. Following are the ways that can help you choose the right VPS hosting:
VPS Provider:
The basic and most initial step is to choose the right VPS provider for your needs. There are many providers available but when searching one for yourself there are certain things that you should keep in your mind. These factors include customer reviews, support quality and reply time, and uptime guarantee.
Resources should match the needs:
While choosing the VPS you should make sure that the VPS resources match your needs. This totally depends upon what the user intend to host on the VPS hosting plan. For this purpose the three most important things are Processor, Storage and RAM.
VPS Environment:
Another essential factor is that you should decide the type of VPS environment on which you want to run your server. There are two options available in this regard one is the windows while the other is the Linux.
Management of the server:
The whole server once handed over must be managed carefully. It must be managed by the VPS provider. It is called VPS managed. While in case of unmanaged VPS one has to take the responsibility of the server on his own. This is not an easy job. Check out https://www.hostiserver.com/vps for the best managed VPS hosting services.
A capability of a server:
It refers to scalability that is the ability of the server to handle sudden and increased traffic. Along with that standby servers should also be available in case when the main servers are overloaded.
About the Author:

Barbara Morgan is a freelance writer, IT enthusiast and a California native. She began reviewing hosting providers when managed hosting just appeared on the market. Mark loves enlighten hosting related topics in all its forms. She regularly posts her articles at one of the managed hosting providers in the USA and NL website – Hostiserver.com