Chamelephon APK : The present article lets you solve your problem of Invalid IMEI in Android device, specially built on MTK Chipset. The unusual behavior exhibited by Android devices built on MTK chipsets contribute to the issue of invalid IMEI. Some of the famous brands built on MTK chipset are Micromax, Gionee, Lava, Panasonic, etc. Here is the best solution to such an issue; with Chamelephon apk, you shall be able to fix your invalid IMEI problem in minutes.
The methods to change IMEI may vary from one manufacturer to another. The most usual cause for invalid IMEI problem is flashing the stock
ROM inappropriately, i.e., you upgrade the existing firmware to custom ROMs. Chamelephon for Android has incorporated various algorithm to tackle the wrong IMEI problem and treat it accordingly.
Recommended: Netflix APP Download For Android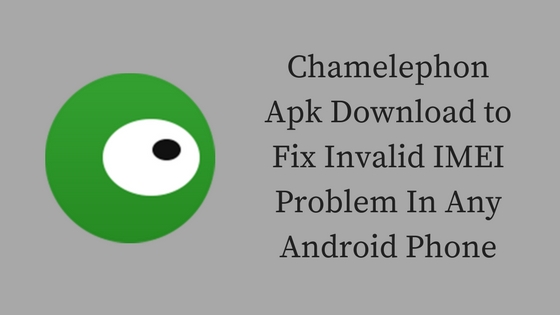 What Is IMEI On Android Phones?
IMEI stands for International Mobile Equipment Identity. As the name suggests, IMEI is a unique identification number given to every manufactured mobile handset. Such an identity is used by GSM network to invalidate the device.
As the users of Android get adventurous by switching to Custom ROMs quite frequently, devices especially on MTK chipset loses the country-specific manufactured modules and thus prone to invalid IMEI problem.
While tempering with IMEI is illegal in most of the countries, the following article is for educational and diagnostic purposes. Any attempt to deliberately change the IMEI using different IMEI changer apk will account for illegal purposes, and the readers shall be on their own risk to use the methods prescribed here.
Recommended: Happy Chick APK Download for Android
Features Of Chamelephon APK
Chamelephon apk is the top performing utility Android application. It enables you to change your IMEI on Android devices easily. With Chamelephon apk download, you get to enjoy the following features of the application:
Chamelephon for Android is best suited for IMEI change on MTK chipset devices.
The app is capable of addressing invalid IMEI issue, repair defunct IMEI, etc.
Enables the users to anonymously use Android devices by tweaking or virtually changing the IMEI.
Chamelephon apk is well compatible on major mobile brands like Vivo, Oppo, Micromax, Lava, Gionee, Videocon, Panasonic, Intel, etc.
Chamelephon app can perform IMEI change with/without rooting your application.
Prerequisites For Using IMEI Changer APK
To tackle a complex task to change IMEI on your device, certain requirements have to undertake. The following are the steps to be followed before attempting:
While Chamelephon apk allows changing the IMEI without rooting the Android device, in certain cases you will have to perform Root operation before attempting to change IMEI.
Use only Mediatek / MTK devices with Chamelephon.
Backup your data before attempting to change IMEI.
How To Download Chamelephone Apk?
Chamelephon apk download is an easy step-by-step process. You can directly download it Google Play Store or download the apk separately and install it on the device. To install the apk separately, make sure to enable the Install from Unknown sources option.
How To Fix Invalid IMEI With Chamelephon?
Chamelephon apk helps in fixing the invalid IMEI in the following way:
To change IMEI number rather than repairing the same, you may backup the Original IMEI by dialing *#06#.
Processing further, open the Chamelephon App on your phone. Make sure to grant the application SuperUser Access from the pop-up that appears.
Now attempt to change your IMEI by clicking on Generate Random IMEI button. You can also manually type an IMEI number.
Now press on Apply New IMEI button. Confirm the popup prompt message, and your IMEI shall change successfully.
Make sure to reboot your device after performing the above steps.
Other Chamelephone For Android Alternatives
For rooted or unrooted MTK devices, Chamelephon apk is the front-runner in solving the invalid IMEI issue. There other alternatives such as Mobile Uncle app, IMEI Changer apk that is suitable on Snapdragon chipsets, Exynos, Xposed.
IMEI Changer Apk
IMEI Changer app is safe as it has no side effect on the performance of the device. To use the application, Xposed framework is to be installed on your rooted device. As the Xposed framework is not available for Android 7.0 or above, the application will not work in higher versions of Android.
To Change IMEI With IMEI Changer Pro, follow the below steps:
With Xposed Framework installed on your device, open the IMEI changer app and select the IMEI changer Module on modules section.
Now enter IMEI number in the "New IMEI No Field." The app will randomly generate IMEI number if you do not enter any new IMEI.
Soon after this, reboot your device.
Again, open IMEI Changer app, to see your Original IMEI Number and Current IMEI number.
You can check the IMEI related information by dialing *#06#.
Mobile Uncle App
Mobile Uncle App is a downgrade version of Chamelephon apk. The application is easy to use, and by following the on-screen instructions, you can change the IMEI on your Android device. Make sure to reboot the application to apply the changes made.
The above methods and tricks do not guarantee to diagnose and repair your device fully. An attempt has been made to compile all the working methods to fix the invalid IMEI problem using popular applications such as Chamelephon apk and other IMEI Changer apk.
Recommended: ES File Explorer Pro APK Download for Android
Conclusion:
It is all about Chamelephon apk download to fix invalid IMEI problem in android device. We hope you like this article, and if it so then shares it with your friends and family members who's device is facing such type of problem. If you find any problem related to this article, then share it using the comment box below. Also, share your reviews that help us to grow. Thank you!
Related Post: