With all the random chat sites out there, it can be tough to choose which one you want. You may want something that's free, easy, and safe, or you could be looking for a chat site membership that'll give you some fun bells and whistles to play around with. So where does Camgo fall within the broad range of options?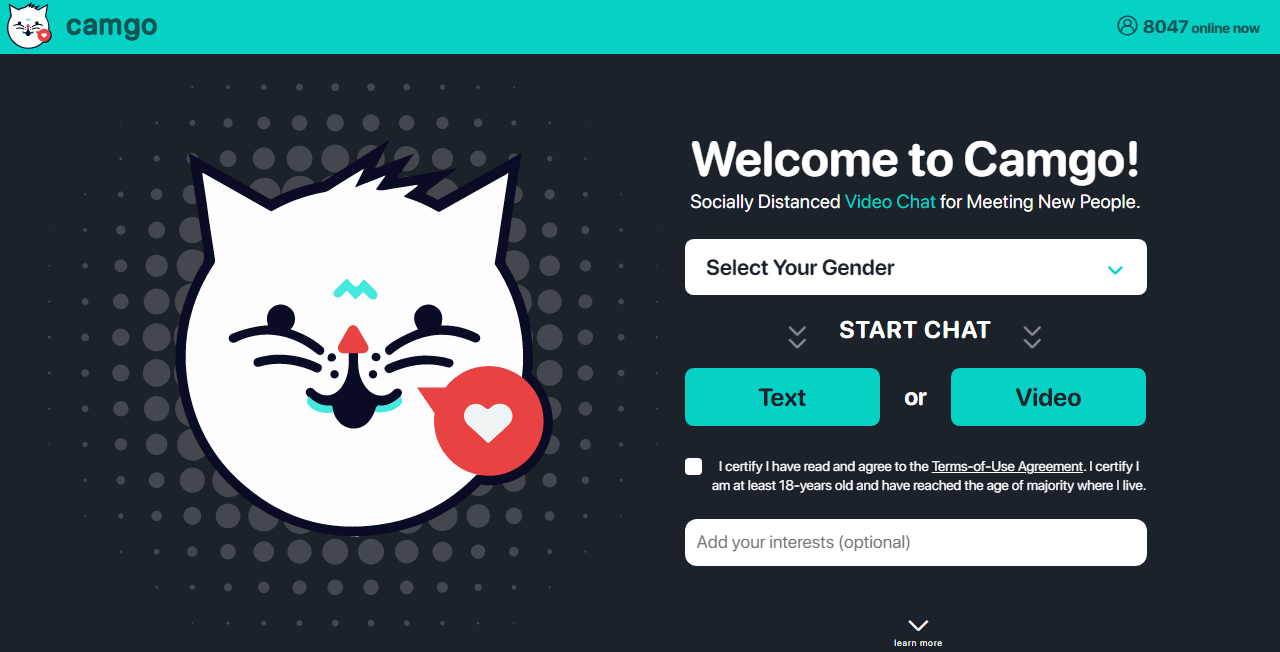 Comgo Overview
I've tried out quite a few random chat sites already, so I joined Camgo with a pretty good idea of what I do and don't like in a chat site. I found that the basic features, available for the users who join for free, are more than adequate. When I tried the paid version of the site it seemed worth the price, since they throw in some awesome extra features to keep their members satisfied with each visit.
The site says that you can "chat, talk, flirt, and date online", so clearly they mean for users to take advantage of the flexibility that random chatting offers. I ran across a bit of everything and then some, as is usual on a random chat site – pretty much what I expected.
One feature I really appreciated was the Safe Search AI system, which detects users who are acting inappropriately or otherwise misbehaving. I could actually tell a difference in my chat results with the Safe Search turned on, so that's a great option for anyone who's concerned about safety during their chat sessions.
Like any other random chat site, Camgo offers the standard video and text chatting. They also let you do both together, though, which is something I haven't seen before. Personally, I'm already comfortable with video chatting, so being able to text instead of speaking over the webcam didn't really do much for me. That being said, I can see how someone who's still adjusting to video chatting could benefit from this feature.
Comgo Member Structure
Camgo has categories for men, women, couples, and transgenders; as you'd expect, the majority of chatters are men and women. From what I could tell it was about half-and-half, which is what I typically hope to see on a chat site.
I met people from all over the world in the course of chatting; some of the countries that stuck out to me were the Philippines, India, Brazil, the United Kingdom, and Germany. Plus, of course, plenty of users from the United States. The people I talked to tended to be on the younger side, probably from 18 to 30-ish in many cases. However, I also met plenty of users that seemed to be in their 30s, 40s, and a few in their 50s.
Comgo Registration and Membership Costs
Unless you're going to buy a membership, you won't need to sign up. I didn't have the option to make a free account; instead, I simply started chatting as an anonymous user.
After registering, I got access to a gender filter, and I was able to keep records of all my chats. I'm pretty sure these features are meant (at least partly) to facilitate the possibility of flirting or online dating, but you certainly don't have to use them for that. Having your chats stored on your account isn't super common, and I was glad to see Camgo offering it to their members. One of the aspects of random chatting that feels a bit limiting to me is when I can't revisit chat partners I really enjoyed talking to. If I can go back and find it in my own records, though, it's problem solved!
I thought the membership fees were pretty standard; if you're paying for a week it's $6.99, and for a month it's $19.99. With a 34% discount on the monthly rate compared to the weekly, it's obviously more cost-effective for dedicated random chatters to get that option. Whichever one you choose, though, you'll get the exact same features; there's only one membership level, and you have the choice to pay weekly or monthly.
How to Connect Comgo
Starting the chats as an anonymous user just took a few seconds – I think it was something like three or four clicks before I was connected with my first chat partner. I was wondering if it would really be that easy because some chat sites take you down a bit of a rabbit hole before you can actually start chatting. Some of them may try to sell you a membership or get some personal details even though you aren't making an account. None of that here!
One way in which Camgo really pulled through was the "add your interests" field, located on the homepage. Basically, I put in my interests, and I was matched with other chatters who had typed in the same thing. I tried various keywords like "mountain climbing" and "travel in Italy", and got pretty accurate matches for all of them.
Even though I signed up for an account, I didn't get a profile on Camgo. This is understandable since anonymity is something that a lot of random chatters (including myself) prefer. My account was really just so I could access old chats, and use the gender filter; it didn't give other members the ability to find me or view any personal details.
Comgo Design and Usability
I found the website to be well laid-out, and satisfyingly responsive. Everything was marked clearly, and I never found myself scanning the page as I wondered where to click next. More importantly, all of my chats loaded within seconds, which is always important for a chat site to get right.
Most of my chat partners spoke English, but it was nice to see that the site is also available in Spanish, German,
French, Italian, Portuguese, and Russian. With random chatters joining from so many countries, I think it's important that a chat site accommodates as many of its users as possible. The verdict? Camgo is a great choice of a chat site, whether you're looking for some free entertainment or a way to upgrade your social life.