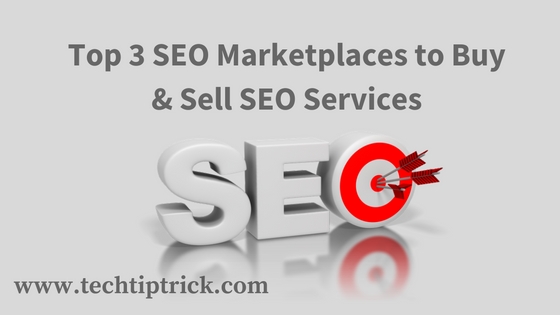 SEO Marketplaces to Buy & Sell SEO Services
Majority of Digital Marketers bet more on Search Engine's Organic traffic to boost their new online venture as compared to paid media channels. One reason being the traffic is free and is more long term. There are many positive aspects of organic traffic but with the passage of time SEO has really becoming very competitive and outranking your competitors is not that easy and more time consuming.
SEO Services is expected to grow exponentially in upcoming years as more and more companies and startups are finding SEO very lucrative and in budget promotional method that pays long term unlike paid ads which only give Return on Investment when they are actively running. The growth of Search Engine Optimization can be analyze from a statistical fact that by 2020 SEO services is expected to be $80 Billion industry which is currently at $60 Billion in U.S alone.
In order to reduce the time taken and win the top spot in Google's result many Internet Marketers like to buy SEO Services from SEO vendors those who are specialized in providing various verticals of Services ranging from Keyword Research to authority backlinks from top online publishers like Forbes, Huffington and Entrepreneur. There are many marketplaces where you can buy such services but quality sites are rare some of them are listed below-
Digital Marketing Marketplaces
WarriorForum – Warrior Forum is one of the oldest Digital Marketing forum and marketplace. Recently, Warrior Forum was acquired by Freelancer.com for undisclosed money. There are many established sellers that provide SEO services but unfortunately most of the services are crap and has no proven result. One can become a Seller on Warrior Forum and list their service but this things has additional costs attached.
Fiverr– Fiverr is multiniche digital services marketplace where people can buy & sell any type of digital service online . They also have Digital Marketing as a category and have many sellers providing various types of services but the major issue with fiverr is most of the services are of $5 and we know well that quality services worth more thn $5 that's why fiverr services are not that good when it comes to Internet Marketing.As, we have no access on what are previous work or experience they have it becomes very tough to expect the positive result.
Yolancer – Yolancer is Digital Marketing Marketplace that focus only on SEO Services. Not only Internet marketers can buy services but can also sell their own service. What separates Yolancer from other SEO Marketplace that Yolancer has very few Sellers as they have strict approval procedure to maintain the quality of services.
We hope that next time you think to outsource SEO Services you know which marketplace to look upon to get your online venture to the top of search engine but make sure that you ask for sample or previous record before purchasing such services. If you know any other marketplace or any experience with above SEO marketplaces we would love to know.