Easy Tricks to Download Instagram Photos and Videos
Have you ever wanted to download Instagram image or video, only to spend an hour trying to find the download button? Well, we hate to break it to you, but Instagram does not, in fact, have a download option. Because of its adherence to fair use laws, and its business policy, they do not allow any kind of downloading of other peoples content of their site. This goes not only for their website, but all apps (Android and iOS) as well. They respect their content creators, they respect their privacy, and so will not allow this. However, what if we told you there is a way to do this?
Worth Reading: How to Make Instagram Content That Goes Viral?
There are numerous ways a person could download a video or image from Instagram. You can, for example, work with the source code, by choosing the inspect element option in your browser. However, the best and most easy way is to use a third party dedicated app (or website) that is specifically made to do this. It's easy, it's simple and it's free. However, there are hundreds of these apps online, with varying quality and functionality. In our opinion, the best one you can get is the Weinstag app. Its free, it's simple to use and it does not, in any way, shape or form, overcomplicate things. And here is how you do it.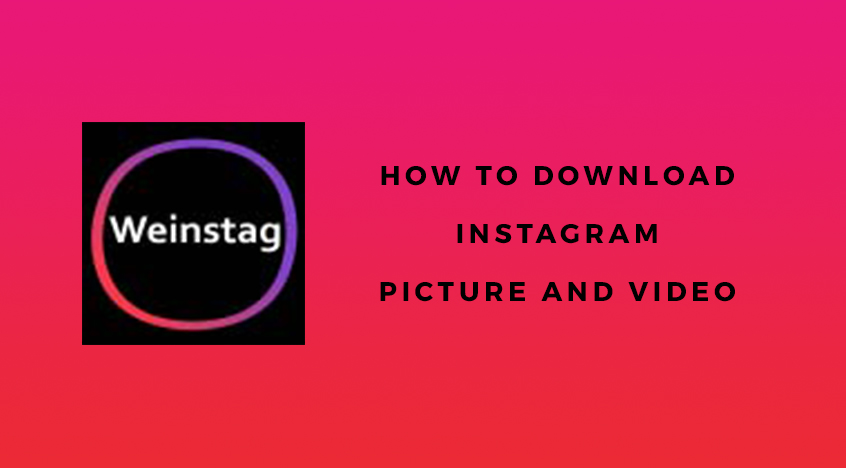 Steps to Download Instagram Images and Videos
First, in the search engine of your choice, search for Instagram video and image downloader.
Keep it open in one of your browser tabs.
Now access Instagram. Simply log in (or create an account, if you haven't already).
Navigate to the image or video that you want to download. It doesn't matter at all which one you select, as long as you can access it. Sometimes you need to be a follower in order to access the content you want. Some profiles are set to private, so that will take a bit more work and effort, like getting them to add you.
To download you need to do right click and press copy on the URL of the video or image you want.
we hope you still have that Weinstag tab open, because you are gonna need it.
Open it again, and find the big pink box. In that box, simply paste (right click, then click on paste) the copied URL into it. Then press download, and you are good to go.
After this, a notification will appear, asking you where you want to save this image (or video).
Simply navigate to the place where you want to place your content, and you are done. Sometimes, this notification will not appear, and will instead have the image or video automatically saved in your downloads folder (or somewhere in the "my documents folder").
You have it, folks, truly a piece of cake. While it may have seemed like a lot of work, with Wesintag, you can get an image or video in less than five minutes. Just remember to not use this image or video for profit, and always give credit where credit is due. Here is good guide to Put Your Instagram Name and Bio in The Middle.