Digital marketing is the newest kid on the block when it comes to marketing and advertising. With the growing number of people finding their way onto the internet, it is very evident that the best place to reach a wide audience is through these platforms. Thus it is very important to make your place on the internet if you want to snag a piece of this digital marketing pie. But due to the high number of content already present on the internet, it is difficult to create that place on the internet which will help you to get high coverage.
Related Article: 5 Do's and Don'ts of Content Marketing
But if you are looking to become a part of the digital marketing team, you need to realize that you should have a proper campaign in mind. This will help you to get the recognition you need to take your business to the next level. There are many good Digital analytics course that you can opt for in order to learn the ropes of the trade. If you will be doing the marketing on your own then here are 6 things you should keep in mind when launching a digital marketing campaign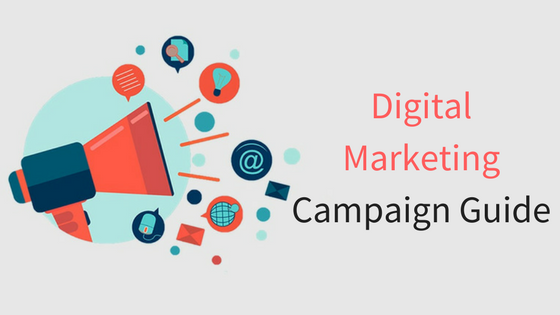 Digital Marketing Campaign Guide
1. Keep it simple
A digital marketing campaign does not need to be rocket science. It is all about conveying your message to the clients. So you need to make sure that you keep it simple in order to make the clients understand what you are trying to inform them. A digital media campaign often revolves around one particular thing. So you need to make sure you are highlighting the product properly in order to get maximum feedback from it.
2. Marketing does not stay within a bubble
Marketing is all about improving and improvising whenever needed. You can be sure that you will not be able to stay within a bubble whenever you are planning a strategy. It is always good to have a good strategy in plan. But at the same time you need to make sure that you are designing it in such a way that you are able to incorporate any kind of changes that are needed.
Worth Reading: How to Make Instagram Content That Goes Viral?
3. Costumer research is a constant process
Many people tend to do a thorough customer research and then put out the results before the process begins. But you need to keep in mind that it is very important to follow through with good customer research in periodic intervals as it ensures that you are doing the job properly.
4. Analyzing and testing is very important
When you get the results in hand, it is very important to analyze the results so that you know where you can improve. Proper analysis of the results will help you to plan a better strategic campaign for the future.
5. Documentation is key
Though all of it is maintained online, you need to keep proper documents for each thing you do. These will help you to keep a track of all the changes.
6. Automation is not always automation
Even if you have a fully automated marketing system you need to keep in mind that complete automation is not a feasible thing, you will have to put your manual labour into some parts.
Here are some things that will help you to keep your digital marketing campaign on point. Make sure that you are staying ahead of the competition by keeping your campaign better than the rest. If you are unsure about doing it on your own, you can always take the help of professionals who will help you to get the work done easily and get good results as well. Digital marketing can definitely help you to go a long way.